Photos and X-rays on panoramic x-rays are full mouth dental radiographs created in our Extraction Oral Surgery office.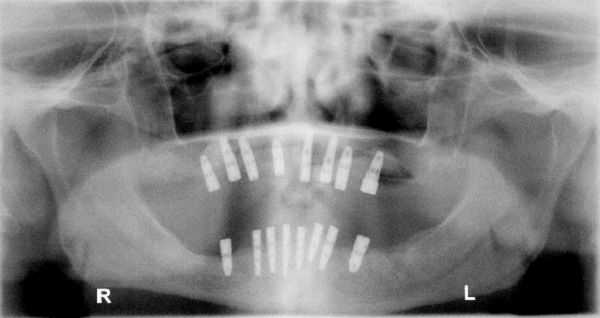 Panoramic x-ray (radiograph) showing 16 dental implants.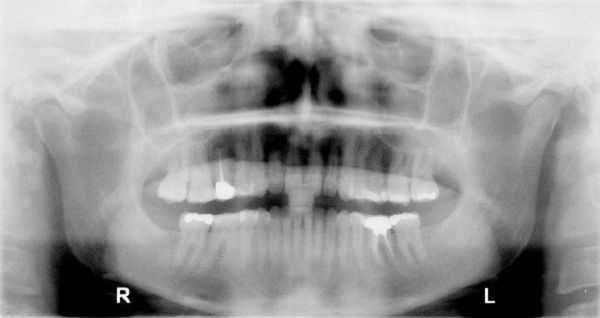 Panoramic radiograph (x-ray) of a European patient seeking TMJ treatment.

An atypical bone pattern was noted on a 46 year old female during a routine set of dental radiographs x-rays. A Panoramic xray also showed something unusual. A subsequent oral surgeon exam revealed no expansion of lingual or buccal plates. The teeth have not moved for many years though #30 was extracted many years prior. A moderate depression was noted on the buccal aspect of teeth #'s 29 & 30. The patient exhibited mild discomfort in this area upon palpation. A CAT scan confirmed the bone loss and an exploratory oral surgery was performed. The clinical impression was that of a lateral periodontal cyst. The oral pathology biopsy showed it to be mildly inflamed fibrous tissue. Note the importance of careful evaluation of bone patterns in regular dental xrays.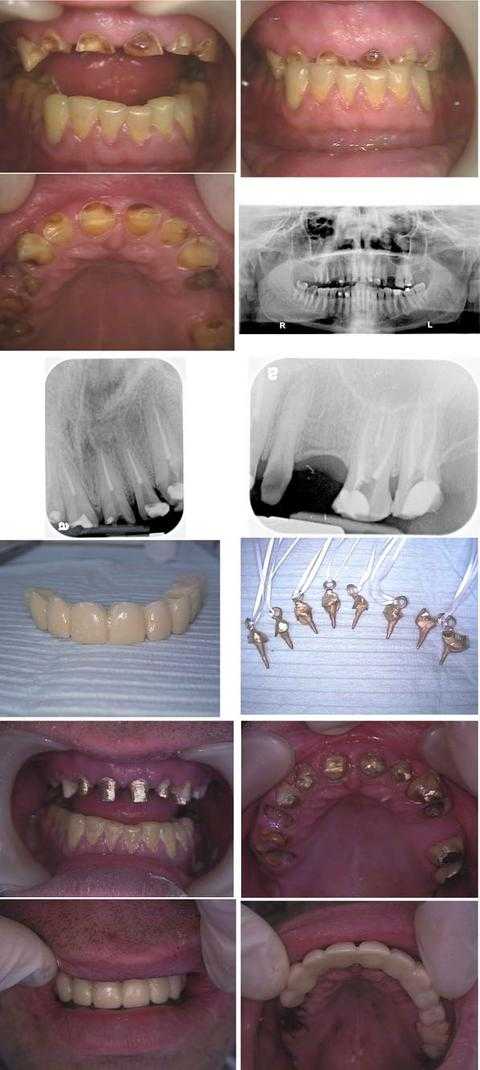 Oral Rehabilitation Dental Reconstruction of a dental fear phobia patient who is a Wall Street executive. Focus on dental radiographs x-rays: a panoramic x-ray and two periapical xrays. Total treatment time was about nine hours in two visits during one business week: Monday (four hours) and Friday (five hours). This patient hid his dental condition for over a decade by never showing his smile.
In the first row of photos, note that the dental bite occlusion was over-closed due to a prior history of an eating disorder, now controlled, and a current teeth grinding habit bruxism.
An Oral Surgery consultation with panoramic xray (second row) was performed prior to treatment to evaluate opening the bite.
The third row shows x-rays taken after the Endodontist completed eight root canals on the first day on tooth #'s: 6 – 11 and 14, 15.
The fourth row shows the lab-processed 11 unit (11 tooth) temporary dental bridge and the cast gold post and cores with Kaitlyn loops for the root canal treated teeth.
The fifth row shows the cast gold post and cores cemented.
The sixth row shows the lab-processed provisional temporary teeth bridge in place after the Oral Surgeon extracted tooth #'s: 3 – 5 and 12, crown lengthening gum surgery was performed on tooth #'s: 6 – 11, and a distal wedge was performed on #15.
The patient will have a final porcelain metal dental bridge made after the gums heal. Dental implants may also be placed in the upper right posterior. A bite plate night guard is also necessary to try to mitigate the force of teeth grinding clenching. Referral for pharmacological management of anxiety is also worthwhile.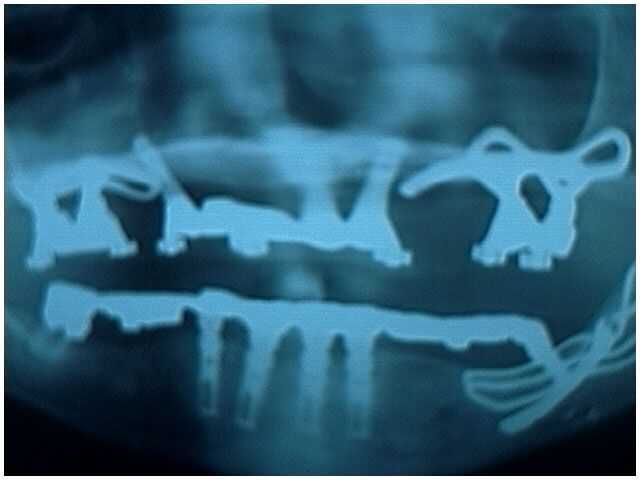 Radiographic comparison of a combination of dental implants in one patient. Panoramic radiograph x-ray. Three unilateral subperiosteal dental implants – two upper and one lower – that vary in age from 5-16 years, seven anterior dental implants – three upper and four lower – that vary in age from 3-11 years, and one lower posterior molar tooth with a telescopic coping that has remained intact for 16 years. This one xray shows a lot of implant dentistry.