This website contains thousands of pages of exclusive dental pictures and dental information created by New York dentist, Dr. Jeffrey Dorfman, Director of The Center for Special Dentistry®. Our 16 cosmetic dentists and specialists offer high-end multi-specialty cosmetic dental reconstruction. Most of the website information is within the Dental Photos (below) and Library sections. In addition our YouTube channel offers a lot of our videos.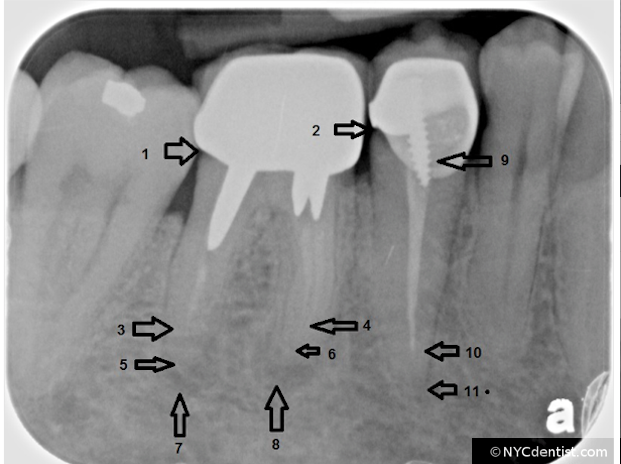 By the way this content, including text and dental pictures, is copyrighted and protected by numerous types of software. This software can shut down offending websites. Therefore please don't use any of our content without written permission.
Service: Braces Adult Orthodontics
Service: Cosmetic Dentistry
Service: Dental Anxiety Dental Fear
Service: Dental Implants
Service: Extractions Oral Surgery
Service: General Dentistry
Service: Gum Disease Treatment
Service: Porcelain Veneers
Service: Sleep Apnea Snoring
Service: Smile Makeover
Service: Teeth Whitening Bleaching
Service: TMJ Bite Guards
Service: Tooth Pain Root Canal
More: Dental Philosophy
More: Health and Wellness
More: Library
More: Teaching Private Practice
Information about these dental pictures
In medicine and dentistry "left" and "right" are based upon the orientation of the patient's body and not how they appear in a dental photograph of a smile. For example, a reference to the upper left teeth will actually appear to be on the right side when viewing dental pictures of the face and similarly an upper right tooth will appear to be on the left side.
Use of dental pictures helps convey meaning
Many words in dentistry like oral and mouth have a similar meaning. They are frequently used together with dental pictures to help our readers find specific words they best understand. We use dental pictures to teach because words are frequently insufficient to convey meaning. This is particularly important because many of our visitors are from countries where English is not their primary language. Maxilla or maxillary refer to the upper jaw. Mandible or mandibular refer to the lower jaw.
Use of synonyms in text and dental pictures
There are many other similar word combinations used throughout this website because our pages are read by patients and dentists. A few of the most common are discussed here. Tooth decay, tooth cavity and dental caries all mean the same thing. Likewise tooth, teeth and dental are also frequently interchanged as in teeth veneers or dental veneer laminate. Similarly oral rehabilitation and dental reconstruction mean smile makeover. Furthermore the word for x-ray may be used with or without a hyphen (this is true for other words too) and can also be called a radiograph. Lastly, we use the terms dental pictures and dental photos interchangeably.
16 Cosmetic Dentists, Specialists and Lab Ceramists in One Midtown Office
In brief our team includes 16 cosmetic dentists, specialists and lab ceramists in one high-end midtown Manhattan office. In particular we focus on offering Creative Solutions for Complex Dentistry®. As a result we are able to offer quick and comfortable cosmetic and reconstructive dentistry. In addition an MD-anesthesiologist offers several options for dental sedation. We offer intelligent and honest diagnosis based upon 31+ years of experience. Our treatment is quick and comfortable. Lastly we use the finest materials and top labs.
In conclusion Dr. Jeffrey Dorfman created all of the dentistry shown on this 4,400 page website. In brief we offer intelligent & honest diagnosis and better results for our patients. Visit us when you want it done right the first time; you will save money by initially spending more. Therefore please call The Center for Special Dentistry®.