Before and after photos on wisdom teeth extraction of an impacted third molar performed in our Extraction Oral Surgery office.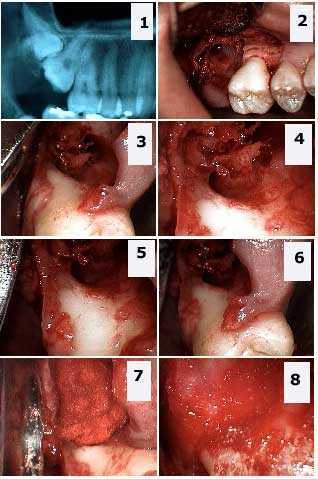 Extraction of an impacted wisdom tooth and the adjacent second molar. 1) Radiograph x-ray shows the double impaction. 2) – 6) Different photos show the large osseous bone defect and the significant exposure of the distal furcation of the first molar. 7) – 8) Packing the defect with freeze-dried bone and gelfoam.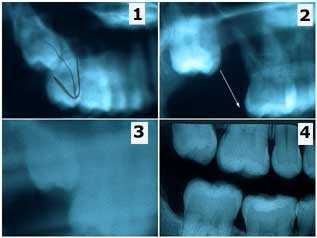 Mistaken extraction of the wrong tooth. This patient is a 27 year-old female who had recently moved to New York from Seattle. She brought prior x-rays and an interesting story involving dentistry in Seattle that I thought was worth relating. 1) In Seattle the patient was referred to an oral surgeon for the extraction of #1 but #2 was erroneously extracted instead. 2) Xray after extraction of #2 shows tooth #1 is still present. 3) This new, less clear Panoramic x-ray was taken a year later (still in Seattle) but the wisdom tooth #1 can be seen moving down into the second molar position on its own. 4) This radiograph was the first of the series taken in our office. The wisdom tooth #1 has almost fully erupted on its own after about two and a half years. PS – the patient was billed for and did pay for the extraction of the wrong tooth.