Before and after photos on NY Smile Makeovers performed in our Smile Makeover office.

Ten porcelain veneers in the upper jaw
Before and After pictures of NY Smile Makeovers.  Porcelain Veneers and dental laminates mean the same thing. Treatment time – two visits.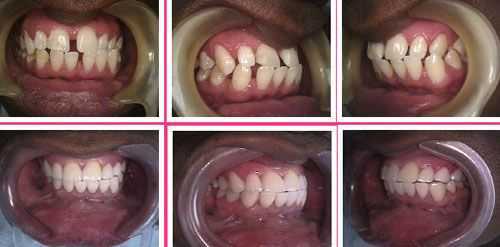 Smile Makeovers with 18 Porcelain Dental Veneers in two visits
The patient wanted to close teeth gap spaces.
To the left are the before and after pictures of this oral rehabilitation. The patient refused orthodontics teeth braces and only wanted cosmetic dentistry. In addition he knew he wanted exactly 18 porcelain teeth veneers. These porcelain veneers were placed in two visits over six hours.

Smile Makeovers oral rehabilitation
This dental reconstruction involved our entire in-office team of cosmetic dentists and dental specialists. This patient has a combination of porcelain teeth veneers, porcelain dental crowns and dental implants. Incidentally note the aesthetic benefit of cosmetic periodontal gum surgery in the lower anterior.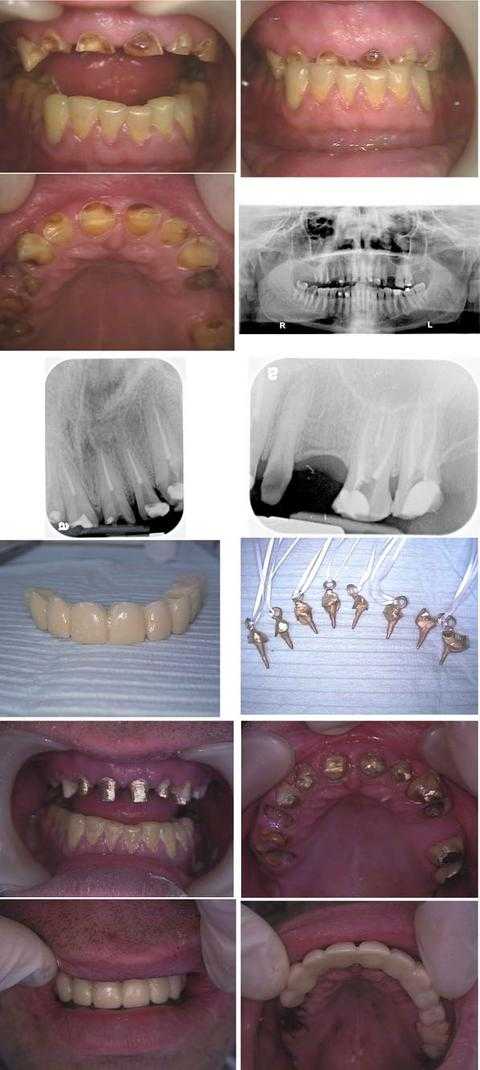 smile makeovers in one week
Dental reconstruction of a phobic Wall Street executive. Total treatment time was about nine hours in two visits during one business week: Monday (four hours) and Friday (five hours). This patient hid his dental condition for over a decade by never smiling.
In the first row of photos, note that the teeth bite was over-closed due to a prior history of an eating disorder, now controlled, and a current teeth grinding habit.
Therefore an oral surgery consultation with panoramic x-ray (second row) was performed prior to treatment to evaluate opening the dental bite.
The third row shows x-rays taken after the endodontist completed eight root canals on the first day on tooth #'s: 6 – 11 and 14, 15.
Next the fourth row shows the lab-processed 11 unit – 11 teeth – temporary dental bridge and the cast gold post and cores (with Kaitlyn loops) for the root canal treated teeth.
Then the fifth row shows the cast gold post and cores cemented.
Finally the sixth row shows the lab-processed provisional temporary dental bridge in place after the Oral Surgeon extracted tooth #'s: 3 – 5 and 12, crown lengthening gum surgery was performed on tooth #'s: 6 – 11, and a distal wedge was performed on #15.
Furthermore the patient will have a final porcelain-metal teeth bridge made after the gums heal. Dental implants may also be placed in the upper right posterior. A bite plate is also necessary to try to mitigate the force of teeth clenching grinding. Referral for pharmacological management of anxiety is also worthwhile.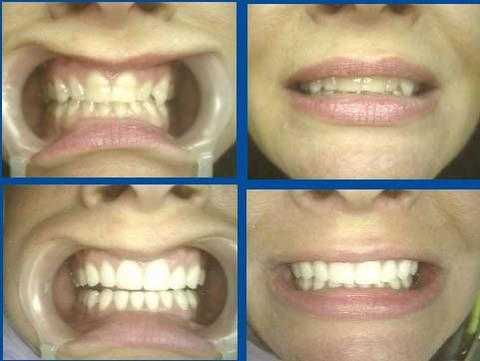 Two visit NY Smile Makeovers
20 Porcelain Dental Veneers Teeth laminates.
To the left before: top photos showing discolored teeth.
To the left after: bottom photos showing aesthetic oral rehabilitation several days later.

Smile Makeovers with 20 Porcelain  Veneers
Before and After Pictures. This patient chose to do the upper jaw first and then completed the bottom jaw several months later.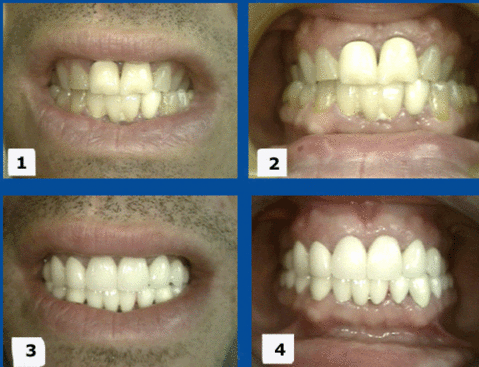 Smile Makeovers dental rehabilitation
1) & 2) Before Photos. 3) & 4) After Photos. A combination of 20 all-porcelain Zirconia crowns, porcelain teeth veneers and a lower front dental bridge were used to treat natural tooth discoloration (and yellow old teeth crowns) and a severe bilateral, posterior cross-bite. The cross bite means the upper back teeth closed down inside the lower back teeth. Total treatment time was about four weeks.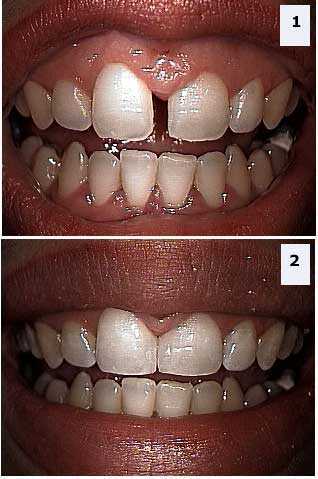 Fast and simple dental NY smile makeovers
Closing a diastema – the gap space between the two upper front teeth – with dental bonding. Note how the teeth bonding contours around the gingival papilla point – the gums.