Before and after photos on forced orthodontic tooth eruption with teeth braces performed in our Braces Orthodontics office.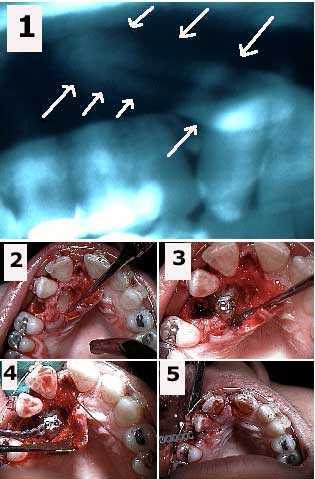 Forced orthodontic eruption – teeth braces dental – and oral surgery. How to pictures: Surgical exposure of a palatally impacted upper canine tooth and placement of an orthodontic bracket and elastic power chain. 1) Panoramic xray shows the horizontal tooth impaction of the upper right canine. 2) Initial exposure of the impacted canine and tooth extraction site after removal of an over-retained deciduous baby tooth. 3) Orthodontic bracket attached to the canine tooth using dental cement glue. 4) Elastic orthodontic power chain attached to the orthodontic bracket. 5) Emergence of power chain through the extraction site after suturing. The power chain will be attached to the orthodontic arch wire to exert a pulling force on the canine tooth to bring it into the area of the present tooth extraction site. The canine will assume a normal position in the maxillary arch in 18-24 months.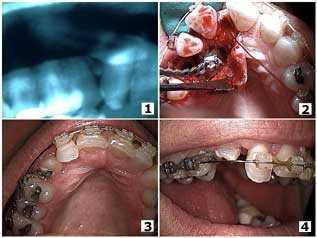 Forced orthodontic tooth eruption – teeth braces dental – and oral surgery. Before and after pictures. Orthodontic tooth eruption of a palatally-impacted canine. Eleven months after the surgical exposure of the canine.