Our Braces Orthodontics team includes 16 cosmetic dentists, specialists (including an Orthodontist) and lab ceramists in one high-end midtown Manhattan office. As a result we are able to offer quick and comfortable movement of teeth. Our Orthodontist focuses on adults because mature patients have different orthodontic wants and needs than kids. Integrating cosmetic dentistry with longer & more frequent orthodontic visits can reduce braces treatment time by 50%.
Adults deserve longer visits with our orthodontist to reduce the duration of treatment. Our patients can come more frequently than once a month to also expedite treatment. They need Cosmetic Braces to look good at work. And they can benefit from receiving Cosmetic Dentistry in the same office during braces treatment. It is generally better for an orthodontist to treat orthodontic patients rather than a general dentist. There is a difference at The Center for Special Dentistry. We offer intelligent and honest diagnosis based upon 31+ years of experience.
Our braces orthodontics patients also have access to top medical care
Moreover our patients have access to our affiliated team of 12 medical doctors in our building. This is because of the known relationship between dental disease and other medical diseases like heart disease and diabetes. We hope to improve your overall health one step at a time.
Multi-Specialty Adult Orthodontics and Cosmetic Dentistry offers Faster Treatment Times
One or several different specialists in our midtown Manhattan dental office may see our orthodontic patients who have more complex problems. This is done before the patient receives braces so they will get the result they expect. When necessary we can plan different parts of orthodontics and other specialty dentistry so we maximize time efficiency. For example, we can plan and place dental implants while braces are on. Then porcelain crowns for dental implants can be immediately made after braces are completed. Another example might include a patient with skeletal problems. There is a benefit having 16 cosmetic dentists, specialists and porcelain ceramists in one place. Our patients also have direct access to a dozen physicians on a different floor in our office building.
Multi-Specialty Adult Orthodontics and Cosmetic Dentistry can Hide Gaps during our Braces
Some people visit us complaining about having one or more large gaps between their teeth. Some may wear a removable denture or Flipper. We can create aesthetic temporary teeth that can fill those gaps. We attach the temporary teeth to the other teeth using the same orthodontic wire that is being used to move their teeth. Similar procedures may be available for removable braces too.
More complex tooth movement requires fixed braces
We offer cosmetic orthodontics with fixed or removable braces (e.g. Invisalign). We use sound academic principles to properly diagnose your needs and offer various treatment options. It is not uncommon for a new patient to complain that they were given clear removable braces that didn't work by a general dentist. They spent a lot of money and time for no benefit. See our video near the page bottom "Beware of receiving too many Invisalign, or other brand, orthodontic trays at one time."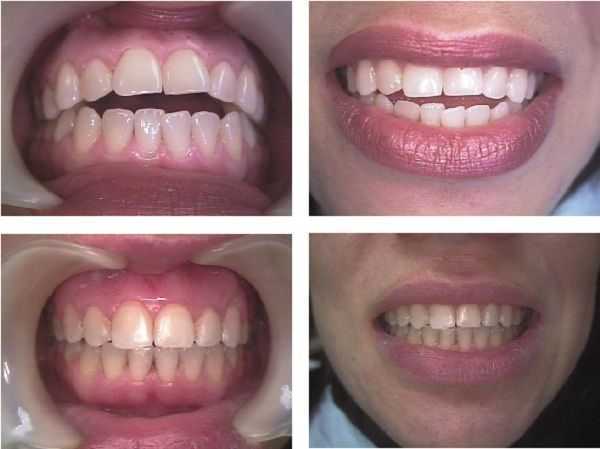 More Photos of Complex NY Orthodontics We Treat
Braces vs cosmetic dentistry
Orthodontics is usually healthier than cosmetic dentistry to treat crooked teeth because it actually corrects the problem. The drawback to orthodontics is the time involved, interim aesthetics and the inconvenience. We compare orthodontic treatment options with various cosmetic dentistry options. Patients are offered assistance in making an appropriate choice.
Speed braces
Another major benefit of cosmetic adult braces orthodontics treatment at CSD is the dramatic decrease in time necessary to complete many Orthodontic cases. High volume Orthodontic practices will typically spend 10 minutes per patient per month while our Orthodontist may spend 60 minutes per patient every two, three or four weeks. Cosmetic Dentists are also available to help speed the result. We can frequently complete braces in one year that might have taken two years elsewhere. The higher cost is worth it for many adult orthodontic patients given the comfort, time-savings and aesthetic result.
Most of our Master Clinicians have over 30 years experience each. This includes Cosmetic Dentistry, the various dental specialties and our Master Ceramist Lab Technicians. Many have teaching appointments or professorships at top NY dental schools. Dr. Jeffrey Dorfman, Director, has over twenty years combined professorships at Columbia and NYU dental schools.
See our Before and After photos of Accelerated Speed Orthodontics Braces in New York.
An orthodontist performs orthodontic treatment instead of a general dentist
Our orthodontist offers clear orthodontic aligners like Invisalign and Clear Correct. General dentists offer them in many other dental offices. These general dentists may frequently offer orthodontic services beyond their ability. Patients can be stuck with having wasted a lot of money and time to obtain a less than ideal result. Our cosmetic adult braces orthodontics offer a higher level of diagnosis, treatment planning and treatment.
Dental specialists have more advanced academic training and the full-time experience focused solely on that area of specialty. They are better able to deal with the frequent, unexpected problems in dental treatment. Some patients may not need the expertise of seeing a specialist for "simple" dentistry. However a less educated and/or less experienced general dentist may not clearly understand the complexity of some dental treatment. A patient you may unfortunately spend $5,000 – 10,000 on braces in New York. They may waste a year or two of time. Then they discover that the orthodontic result is really less than expected.
Removable braces can only treat simpler orthodontic problems
Many orthodontic cases really need fixed brackets instead of removable braces. We frequently see patients who should have received fixed braces. Instead these patients with clear removable Aligners were poorly diagnosed or dishonestly treated. Several examples of orthodontic problems that should be treated only with fixed braces include those listed here. They include: 1) movement of more than a few small teeth, 2) rotations and 3) sideways (rather than in or out) movement. These types of movement will usually be better performed by an orthodontist using fixed braces.
GP Elite Premier Provider (EPP) or Invisalign Certified (IC) are promotional listings that may refer to general dentists. EPP designates a dental provider who has become a top dollar producer in performing a lot of these cases; it is not an academic degree. IC designates a dental provider who has taken a four hour course. This course focuses solely to benefit one Aligner brand. It teaches the diagnosis and treatment for Invisalign (or another brand). These people are not necessarily educated or skilled in comprehensive orthodontics. The American Association of Orthodontics does not recognize them as orthodontists. The patient will likely be the loser when problems develop.
Specialists work with Cosmetic Dentists in one office
At CSD you may consult with our in-office, multi-specialty team consisting of a real orthodontist and at least one cosmetic dentist – plus periodontist, endodontist and oral surgeon when needed – to most comprehensively diagnose and offer treatment choices, benefits & risks, and realistic expectations of your final orthodontic result before you begin braces. When necessary we can also coordinate all other needed dentistry at the same time as your cosmetic adult braces orthodontics visits to maximize the efficiency of each dental visit.
Dr. Jeffrey Dorfman created all of the content shown on this 4,400 page website. Visit us when you want it done right the first time; you will save money by initially spending more. Therefore please call The Center for Special Dentistry®.
Related Articles:
Back to Top
Compare orthodontics and cosmetic dentistry

Dental information about teeth and braces

How to care for your teeth with braces

Orthodontics involves moving teeth with braces

Related Dental Photos:
orthodontist offers clear cosmetic orthodontic brackets with white wire.

Clear Braces, Invisible Braces and Faster Braces.

Faster Braces, Speed Braces and 5 Month Braces.

A collapsed bite or closed bite may cause malocclusion

A tongue crib stops a tongue thrust habit in a child

Active orthodontics removable braces and Invisalign

Alignment of teeth with braces via leveling and aligning

Anchorage in orthodontics is part of teeth movement

Asymmetry orthodontic, dental smile, face symmetry

Complications in orthodontics and problems with braces

Constricted maxillary jaw makes front teeth protrude

Curve of Spee and supraeruption in dental occlusion

Dental occlusion describe how upper and lower teeth meet

Dental occlusion treatment for overbite

Dental protrusion or teeth pushed out is overjet

Discussion of orthodontic arch wire in dental braces

Eruption pattern of teeth on tooth position and crowding

Fixed or removable retainers offer passive orthodontics

Forced orthodontic tooth eruption with teeth braces

Get orthodontic retainers after braces are completed

How braces move teeth through bone

Info on fixed orthodontic wire retainers

Invisalign and spring aligners are removable braces

Invisible clear orthodontic brackets for cosmetic braces

Malocclusion describes an unhealthy teeth bite

Orthodontic drifting means mesial drift or tipping

Orthodontic elastics springs coils and hooks

Orthodontic molar uprighting and mesial drift

Orthodontic relapse occurs without wearing retainers

Orthognathic treatment involves braces and oral surgery

Overjet and overbite in dental occlusion

Power chain elastics ligatures and spacers in braces

Rabbit or buck teeth show labial flare tooth protrusion

Removable braces and orthodontic retainers

Rubber bands and other orthodontic elastics

Skeletal vs dental midline asymmetry affects the smile

Smile and face symmetry vs dental and facial asymmetry

Space maintenance in orthodontics

Supraeruption of teeth and tooth hypereruption

The arch length determines space for rotations

The dental arch in orthodontics and teeth crowding

Thumb sucking nail biting and a tongue thrust

Treatment options for anterior open bite

What is a deep bite in dental occlusion

Related Videos:
Beware of receiving too many Invisalign trays