Our NY Clear Braces team includes an Orthodontist working with 16 cosmetic dentists and specialists in one high-end office. In particular we offer fast, fixed or removable cosmetic braces for adults. Clear braces are also known as invisible braces. Clear braces may refer to fixed braces that are attached to teeth with cosmetic white brackets and white wire. Otherwise clear braces may refer to removable braces or trays. Removable clear braces brands include Invisalign and Clear Correct. Furthermore Faster Braces refers to the duration of treatment rather than whether the braces are fixed or removable. However fixed braces generally move teeth faster than removable braces. Before and after photos on invisible braces clear braces and faster braces performed in our Braces Orthodontics office.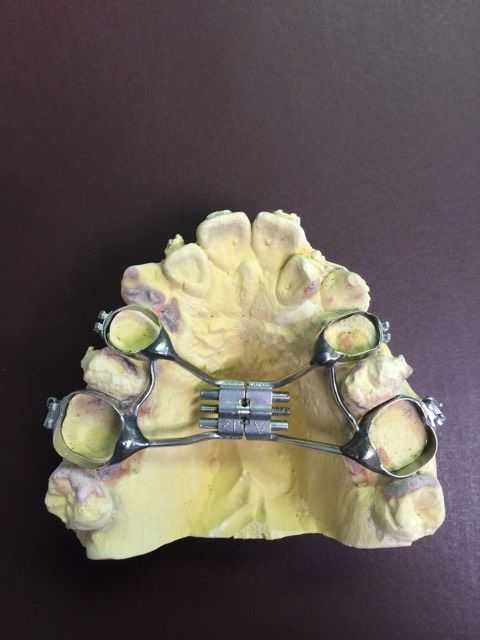 Case selection is important for Clear Braces like Invisalign or Clear Correct
This medieval-looking device is a Palatal Expander still currently used in orthodontics to widen the posterior smile in children.
Contrary to popular "wisdom" Invisalign devices will not work in adults when trying to accomplish similar movement. In fact it could cause an unhealthy tipping of the teeth that pushes the teeth outside the jaw bone.
People should see an orthodontist for braces and not a dentist who performs orthodontics.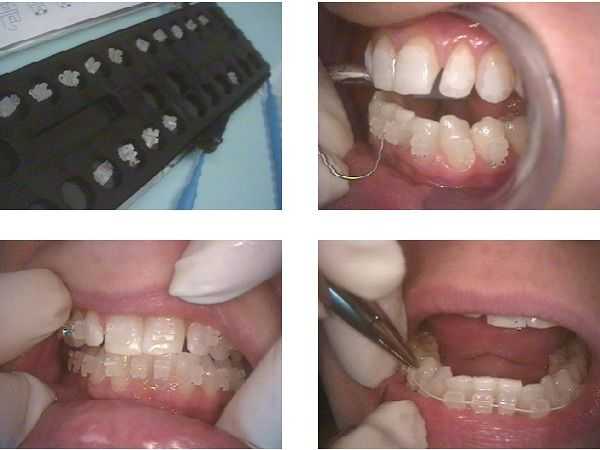 How to bond orthodontic brackets on teeth for clear braces
In this case the clear brackets are glued to the front surface of the teeth.
This procedure took less than one hour and caused no pain.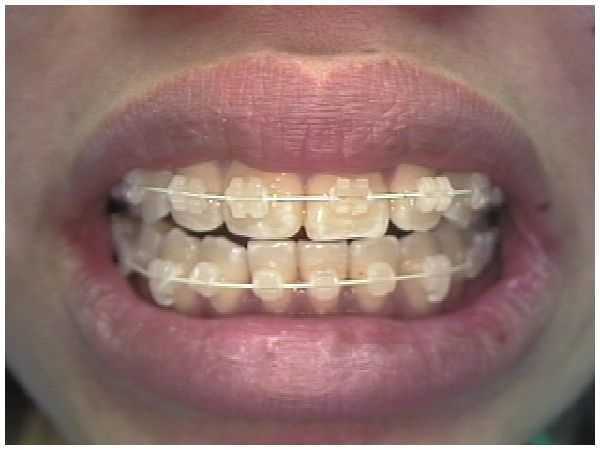 Fixed orthodontics, cosmetic clear braces or invisible braces  on the upper and lower teeth
Note that both the brackets and arch wires are white .014 upper and lower Nitinol arch wires on full mouth Transbond bonded brackets with elastics to open the bite. Diagnosis: dental – skeletal open bite. Patient exhibits bruxism, teeth grinding clenching.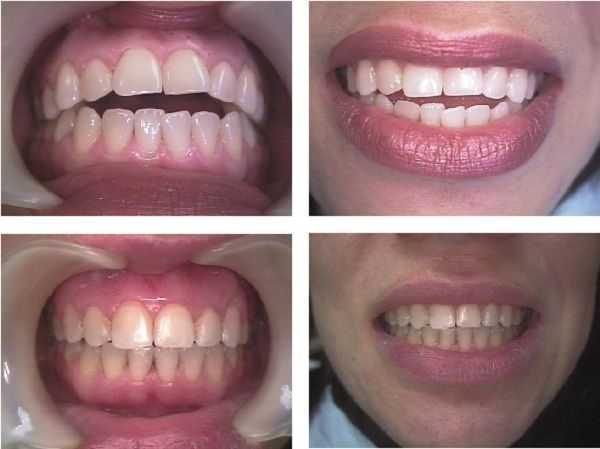 In this case before and after pictures of Clear Braces treatment
Fixed orthodontics with clear braces were used to close this anterior open bite (top photos) in eight months (bottom photos).

Invisible braces are also called clear braces
This patient only wanted to straighten his crooked lower teeth and reduce his anterior open bite. He did not want to improve his upper midline deviation. These photos show the orthodontic change after less than six months of teeth braces. Note clear, cosmetic orthodontic brackets are used with white wire.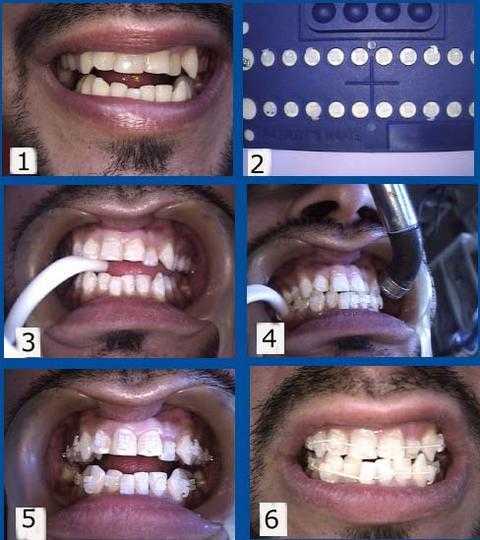 Placement of clear braces orthodontic brackets and arch wire
How to pictures. 1. Start. 2. In particular the brackets are white and can be seen within the white, round circles in the bracket kit. 3. Then the  teeth are primed for bonding of the brackets. Note the frosted white appearance of the teeth. 4. Next the teeth braces brackets are being cured (glued) onto the teeth with the use of a special light. 5. Lastly all dental braces orthodontic brackets are on. 6. Finally .018 Nickel Titanium archwire is engaged with A-lastics.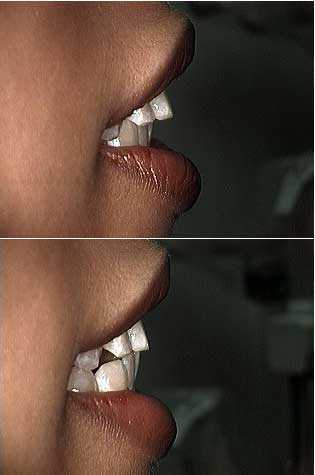 What is overjet?
Overjet is the horizontal measure of how much the upper teeth project forward relative to the lower teeth. In this case the first photo shows the patient's natural bite. The second bite shows how she would like to look. Orthodontics teeth braces or cosmetic dentistry can achieve this.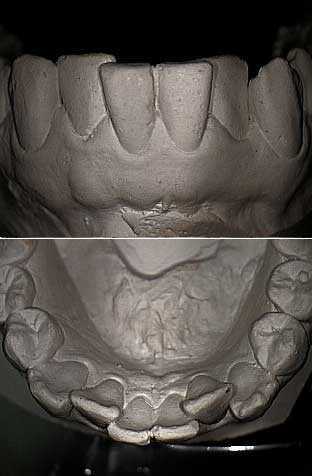 Crooked teeth shown on a plaster model
This is a frontal and occlusal view of a plaster model of the lower dental arch that demonstrates crooked teeth. Note the malpositioned lateral incisors. These photos may also demonstrate post-orthodontic relapse associated with not wearing retainers after teeth braces dental treatment.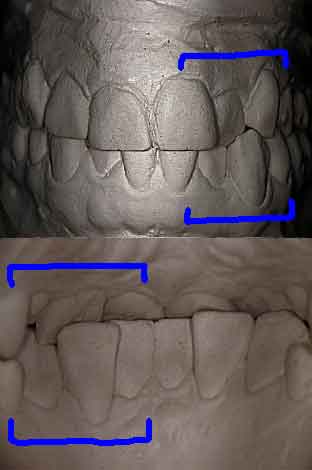 A lingual view of crowed teeth as seen on a plaster model or master model
This is a frontal and lingual photo of a plaster model of the same dentition. Note the anterior cross bite with the maxillary left lateral and the mandibular left canine. This patient should see an orthodontist to dental treatment plan orthodontics teeth braces.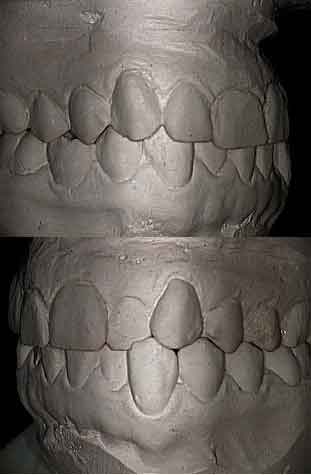 Anterior cross bite seen on master models
Lateral pictures of the same dentition. Note the anterior cross bite between the upper lateral incisor and the lower canine teeth on one side. A fixed orthodontic dental appliance teeth braces could be used to correct this teeth cross bite.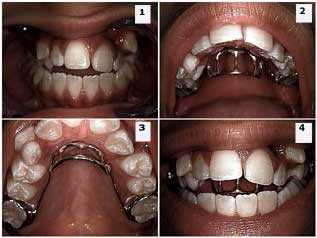 A tongue crib in place to stop a tongue-thrust habit in an adolescent male
Note the anterior open bite and the labial displacement of the upper central incisor tooth #8. The tongue crib is custom made and cemented onto the upper first molars. It is part of preventive and interceptive orthodontics teeth braces. Early intervention with dental braces can help prevent the need for more extensive orthodontics later in life.
In conclusion all of the dentistry shown on this 4,400 page website was created by Dr. Jeffrey Dorfman. Visit us when you want it done right the first time; you will save money by initially spending more. Therefore please call The Center for Special Dentistry®.