Before and after photos on treatment options for anterior open bite performed in our Braces Orthodontics office.

Treatment of open bite with braces and cosmetic dentistry. The orthodontist worked closely with the cosmetic dentist in this case when moving teeth in order to maximize symmetry and tooth proportions. This photo was taken after the upper braces were just removed (after eight months). The lower braces may be removed one month later. This patient originally came to us seeking porcelain veneers (cosmetic dentistry) but was offered braces as a more logical (and fair) treatment option.

A unilateral anterior open bite with significant midline deviation and dental asymmetry. Notice the teeth bridge on #6 – 8. This case is just getting started with orthodontics dental braces.

This anterior open bite required orthognathic surgery – oral surgery – and orthodontics teeth braces. This patient was actually closed on his back teeth; this shows how much anterior open bite existed before treatment. Anterior open bite closure – before and after. Photo 1 of 2.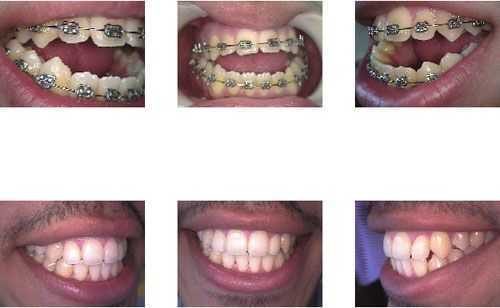 These pictures show how anterior open bite treatment looks before orthognathic surgery – oral surgery. This patient was actually closed on his back teeth in the before pictures. Metal orthodontic teeth braces brackets are frequently needed for orthognathic surgery. Anterior open bite closure – before and after. Photo 2 of 2.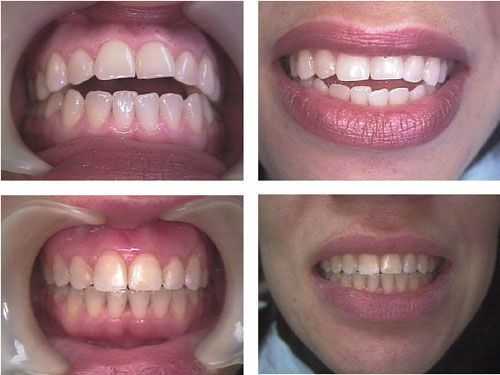 The anterior open bite in this pretty female was closed in nine months with teeth braces orthodontics. Cosmetic dentistry involving teeth sculpting reshaping was also performed.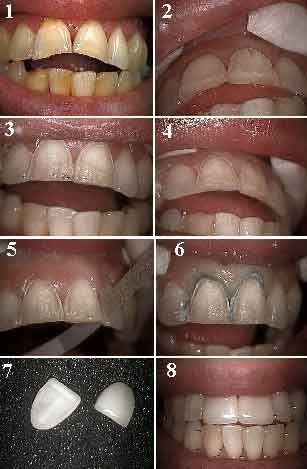 These photos show porcelain laminate veneer preparation of two upper front teeth for the closure of an anterior open bite.
1) "Before" photo with broken central incisors and an anterior open bite. The teeth were cleaned and whitened before laminate veneer preparation.
2) Facial depth cut for porcelain veneer on #9.
3) Initial preparation on #8 and #9.
4) Final preparation of #8 and #9.
5) Slightly reducing contact with sandpaper strip.
6) Retraction cord packed before impression.
7) Final porcelain laminates.
8) Porcelain veneers cemented.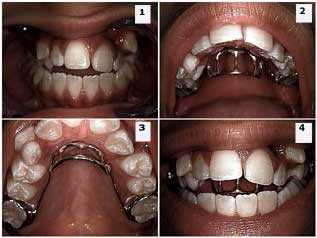 A tongue crib in place to stop a tongue-thrust habit in an adolescent male. Note the anterior open bite and the labial displacement of the upper central incisor #8. The tongue crib is custom made and cemented onto the upper first molars.