Before and after photos on cosmetic periodontal treatment and aesthetic gum therapy performed in our Cosmetic Dentistry office.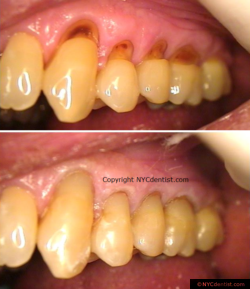 Cosmetic bonding at the gum line. This will cover all the erosion seen the before pictures. Treatment time was one hour.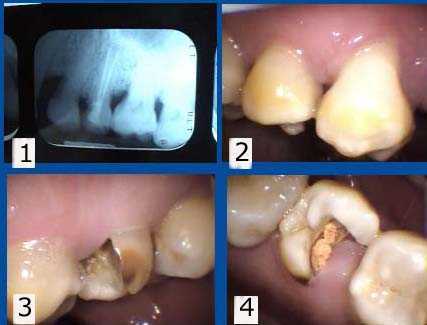 Cosmetic periodontal treatment. This upper left tooth has been left exposed to the oral bacteria for over a year since the root canal temporary dental filling – placed by a local dentist – fell out. 1. Current x-ray. 2. Buccal photo. 3. Palatal photo. 4. Occlusal picture. Treatment options: Tooth extraction and then tooth replacement with a dental implant or retreat the root canal, post and core, crown lengthening gum surgery and dental crown.
The gums around this tooth are noticeable when the patient smiles. Crown lengthening gum surgery will be needed at a significant aesthetic cost to the smile if the tooth is saved. Aesthetic periodontics therefore suggests tooth extraction and placement of a dental implant.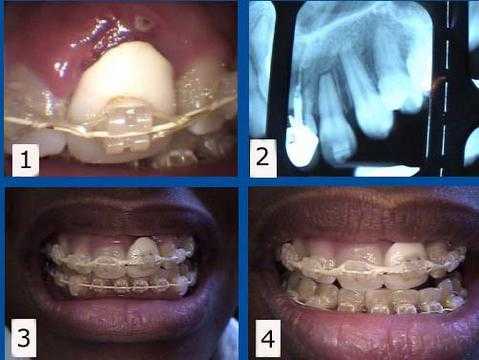 Orthodontic complications and aesthetic periodontal concerns. 1) & 2) This patient presented with a failing tooth #9 under an unattractive tooth crown. This tooth was maintained by the Periodontist for one year during orthodontic teeth straightening with braces . The #9 tooth root was then extracted from under the dental crown to allow the gums and jaw bone to heal – eight months before the completion of her braces. 3) & 4) This rootless crown #9 is being held in place only by the orthodontic bracket and wire. This patient preferred to keep this unattractive crown during her orthodontic treatment to minimize simultaneous cosmetic changes, but a cosmetic temporary dental crown could also have been used during this time. Maintaining this tooth during braces required careful cosmetic periodontal treatment of the gum disease. A dental implant will be placed about three months following the tooth extraction. The second stage dental implant connection will coincide with the removal of teeth braces.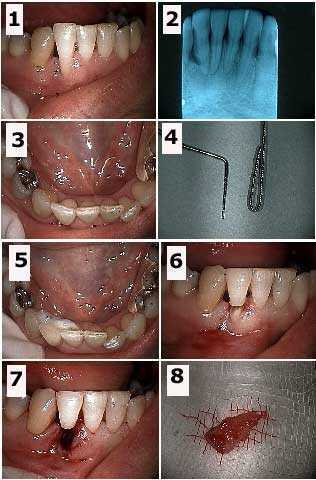 Tooth extraction with periodontal cosmetic considerations. A lower front tooth extraction was necessary for a prominent fashion model. The root of the hopeless tooth #26 was removed and the coronal portion was temporarily splinted to the adjacent teeth. 1) – 3) Initial photos. 4) The wire used for the splint next to a periodontal probe. The wire is doubled to prevent the tooth from rotating around it after placement. 5) The splint was attached to the lingual surfaces of teeth #'s 25 and 27 using cosmetic dental bonding material. 6) Initial preparation through the mid-length of the tooth. 7) Following tooth extraction of the root. 8) The extracted tooth root. This patient has already been through two rounds of scaling and root planing. After healing of this extraction site she will then have an apically positioned flap periodontal surgery and then possibly a bone gum graft to build up this area. An aesthetic Maryland bridge with white porcelain wings was later placed. This is a good example of cosmetic periodontics and the aesthetic management of gum disease and surgery for a periodontal patient.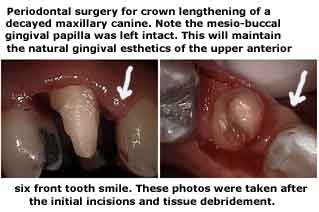 Esthetic periodontal considerations. Periodontal gum surgery for crown lengthening was needed during the treatment of a maxillary canine with severe dental caries – tooth decay. The mesio-buccal gingival papilla – gum point – was left intact for cosmetic periodontal reasons. The mesio-bucccal papilla is usually prominent on upper canines and premolar teeth; aesthetic gum surgery in this area should try to avoid changing the height of this papilla if possible. The last sentence reads "These photos were taken after the initial incisions and tissue debridement."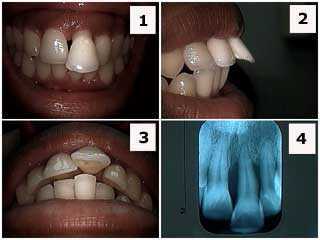 Cosmetic periodontics. This 24 year old female patient presented with her upper left central incisor flared labially – outward towards the lip. 1) Front photo. 2) Side photo. 3) Occlusal picture. 4) X-ray Radiograph. The patient was informed about the severe periodontal condition – gum disease – and that the prognosis for this tooth was guarded at best. She was informed that a thorough Periodontist examination was needed. Orthodontics teeth braces is not recommended here because of the severe periodontal problem. Treatment to try to extend the life of this tooth would include: scaling and root planing, open flap gum debridement from the palatal – only if necessary, root canal therapy, a dental crown for esthetics and possibly a teeth splint. Treatment, otherwise, could include just scaling and incisal adjustment.
I personally would not rush to extract this tooth though the patient needs to be aware of this possibility. Cosmetic periodontal treatment is critical in this case for both the short term and long term aesthetic needs of this patient. The gum disease needs to be carefully monitored by the Periodontist.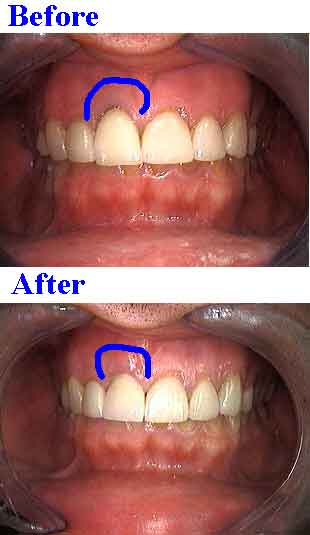 Cosmetic periodontal treatment concerns and gum surgery to remove dark gums around an upper front tooth. Before and after pictures. Minor aesthetic gum surgery and a new porcelain dental crown.

Aesthetic periodontal treatment with a free gingival graft gum surgery. Pictures – three days after periodontal surgery. There was gingival gum recession around the upper front central incisor tooth that created a cosmetic gum defect. 1) The gum graft is shown with stitches in place. These black sutures will be removed by the Periodontist in about ten days. 2) The palate of the same patient shows the donor site for the gum graft. A free gingival gum graft typically involves removing a small amount of palatal gingiva and sewing it where it is needed. It is a procedure commonly used in periodontics to treat esthetic gum problems like that shown here.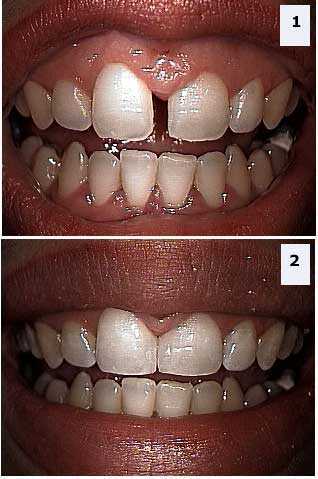 Closing a diastema – the space between the two upper front teeth – with dental bonding. Note the teeth bonding contours around the gingival papilla – gum point.
It is important to understand periodontics when performing cosmetic dentistry. It allows for the creation of ideal aesthetics while ensuring periodontal health. This will help prevent the development of future gum disease and the need for future periodontal gum surgery. It is recommended that Cosmetic Dentists share an office with a Periodontist.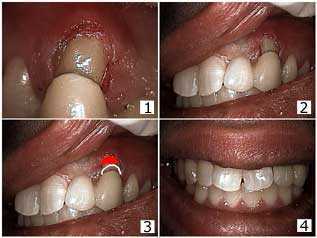 An upper front dental bridge repair that considers esthetic periodontal needs. This was an old teeth bridge that the patient wanted to try to save even for a short time. 1) Fitting the dental bridge over the dental bonding repair. 2) The bridge was cemented with composite resin. The mesial wing was also bonded to the distal of the lateral tooth. 3) The gingivectomy gum surgery was chosen over a gingival flap periodontal surgery because the patient had a low lip line and so the development of a pseudopocket with a gum flap was avoided. The red indicates where the gum line could have been. 4) The final result picture. The patient is informed of the need for bridge replacement when finances allow. An analysis of the lip line and smile should always precede cosmetic periodontal surgery.