Our practice offers high-end Cosmetic Dentistry including Cosmetic Tooth Bonding with our team of sixteen cosmetic dentists, specialists and lab techs who work together in one cosmetic dentistry office. In addition an MD-anesthesiologist offers several options for dental sedation. Nitrous oxide laughing gas is also offered. Significant changes in your smile can occur with our NY aesthetic dentistry in as little as one treatment visit. 
We pay close attention to details in a clean, low-volume environment. We offer intelligent and honest diagnosis based upon 31+ years of experience. Our treatment is quick and comfortable. We use the finest materials and top labs.
Our cosmetic dentistry patients also have access to top medical care
Moreover our patients have access to our affiliated team of 12 medical doctors in our building. This is because of the known relationship between dental disease and other medical diseases like heart disease and diabetes. We hope to improve your overall health one step at a time.


ABOVE: Sculpting involved reshaping these lower front teeth.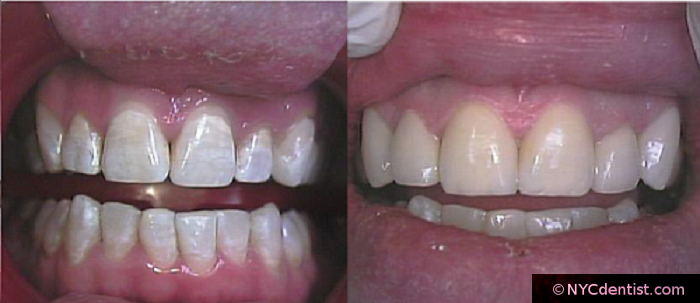 ABOVE: Upper front porcelain veneers hide tetracycline-stained teeth. They look natural.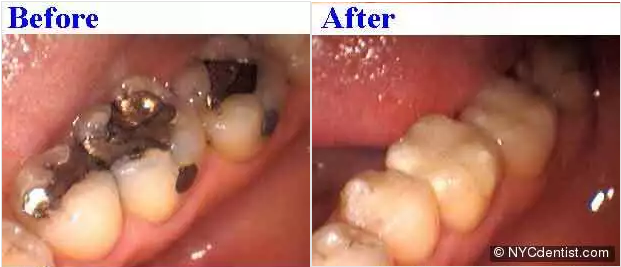 ABOVE: Cosmetic dental bonding changed these fillings from silver to white.
Cosmetic Dentistry performed quickly and comfortably
Our cosmetic dentistry can include more simple procedures like changing silver fillings to white tooth-colored restorations or reshaping the incisal or biting edges of the teeth with a procedure we can sculpting but others may call instant orthodontics.
New York cosmetic dentist, Dr. Jeffrey Dorfman, has created all the unique content seen on this 4,400 page website. He has taught these procedures for over 30 years. Visit the Dental Photos and Library sections. Many dentists and students visit from around the world to study in with us in New York.
The difference between Cosmetic Dentistry and a Smile Makeover
A Smile Makeover implies greater complexity and more teeth are involved than for Cosmetic Dentistry. Cosmetic dentistry can also involve the placement of aesthetic all porcelain veneers or crowns that actually match the color and shape of the adjacent natural teeth and/or hide the black edges commonly seen around crowns.
The difference between good and great dentistry
The results of cosmetic dentistry can vary very significantly based upon the initial diagnosis and the course of treatment offered. It can vary based upon the individual skill of the dentists involved in treatment in addition to the quality of the materials such as using brand name or generic bonding resins, bonding material and porcelain. It can also vary tremendously based upon whether the dental porcelain is made by a low-volume master ceramist or a high-volume lab in the U.S. or in another country. Cosmetic Dentistry also includes Professional Teeth Whitening.
See More Photos of Aesthetic Dentistry.
Multi-Specialty Diagnosis and Treatment performed in One Office
New patients may consult with several of our cosmetic dentists and specialists to discover their specific dental condition. In addition they will be given enough time for thoughtful discussions without feeling an aggressive sales pitch. Patients will learn about their dental condition, understand the benefits and risks of treatment, understand various treatment options including treatment time and cost, and methods for fear/pain control before treatment begins. We typically photodocument our dentistry to provide our patients an understanding of their dental treatment.
Visit us when you want it done right the first time; you will save money by initially spending more. Finally call The Center for Special Dentistry®.
Related Articles:
Back to Top
Manhattan cosmetic dentistry smile makeovers.

Cosmetic Dentistry closes teeth gaps with bonding.

Cosmetic Dentistry for a broken upper front tooth.

Cosmetic bonding the teeth space between the upper front central incisors.

Fast cosmetic dentistry tooth replacement

How to cosmetic dentistry and smile makeovers

Teeth bonding at gum line for toothbrush abrasion

Related Dental Photos:
A teeth gap is closed with bonding.

Close a diastema with cosmetic dental bonding.

Composite resin for tooth erosion and teeth abrasion.

Cosmetic periodontal treatment and aesthetic gum therapy.

Composite bonding for crooked tooth rotations.

Aesthetic dentistry in a smile makeover.

Aesthetic treatment of crooked or crowded teeth.

Bonding gaps between teeth with high end composite resins.

Compare bonding and crowns.

Crowns or caps for crowded crooked teeth

Dental restorations using composite resin fillings

Diagnosis and treatment of cracked broken teeth

Diastema is the space or gap between front teeth

Esthetic bonding for tooth stains or a yellow gray color

Esthetic dentistry with porcelain veneers and crowns

How to close spaces or gaps between teeth

How to evaluate an aesthetic smile

How to remove a cavity and place a bonded resin filling

Incisal adjustment reshaping teeth and dental bonding

Porcelain dental crowns increase teeth length

Porcelain metal bridge problems or crown complications

Porcelain veneers hide discolored yellow and gray teeth

Replacing gold dental crowns with porcelain crowns

Reshaping teeth or sculpting to improve smile aesthetics

Resin bonding increases tooth length for short teeth

Sculpting tray set up for enameloplasty reshaping

Teeth space analysis for filling or closing gaps

Tooth erosion or abrasion from toothbrushing at gums

Tooth fractures broken teeth and cracked fillings

White teeth fillings bonding and composite resin

Related Videos:
Crack Under Front Tooth Crown

Demo: Thirteen Teeth Porcelain-Metal Bridge

Dental Bridge Removal & Make 13-Tooth Temporary

Good vs. Bad Dentistry. Part 10. Dental Materials

How To Attach a Bridge Framework