Before and after photos on esthetic bonding for tooth stains or a yellow gray color performed in our Cosmetic Dentistry office.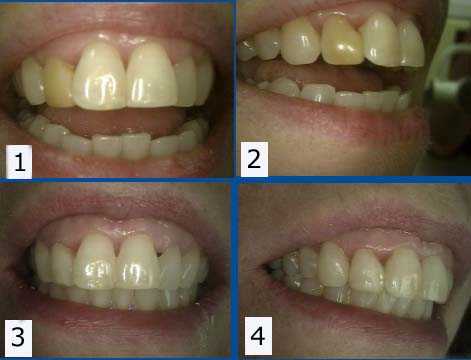 New composite resin replaces an old dental bonding on an upper right lateral incisor tooth. 1) and 2) Pre-op. 3) and 4) Post-op. The color change was accomplished without shots in about 15 minutes.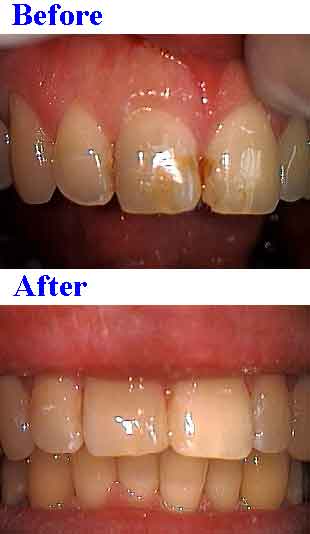 Cosmetic Dental Bonding is shown in these pictures to replace extrinsic color stains in these teeth fillings. Extrinsic stains can frequently result from drinking excessive coffee or teeth without adequate intake of water. A dental prophylaxis, teeth cleaning, can frequently remove some extrinsic stain unless it gets absorbed into the composite. Premium brands of composites are denser and resist this absorption.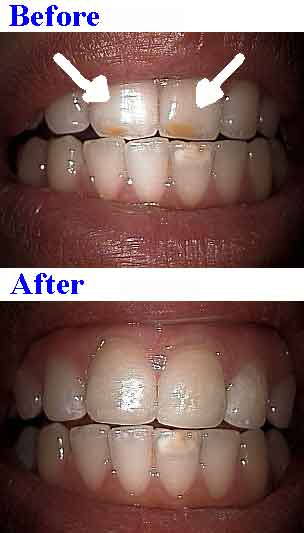 Dental Bonding can remove intrinsic tooth color stains.
Treatment time: 15 minutes, no shots. The lower front tooth will be treated next. Intrinsic stains are associated with internal tooth color and are frequently either white, yellow, gray or brown. A teeth cleaning will not remove intrinsic stain. Aggressive toothbrushing can actually make an intrinsic stain appear worse because it will remove the other layer of tooth enamel and make the stain more apparent.