Before and after photos on esthetic dentistry with porcelain veneers and crowns performed in our Cosmetic Dentistry office.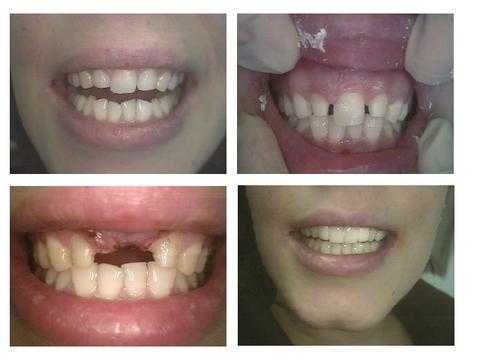 Esthetic Dentistry for a pretty 25 year old woman from Ireland with only one upper front tooth. The upper lateral incisor teeth had root canal therapy and posts placed. The lateral teeth were then prepared for a dental bridge but more tooth reduction was taken from the mesial. The mesial of both canines teeth were reduced so that the lateral teeth could be "distalized." The central incisor tooth was extracted and a bone graft was placed. A temporary lab-processed dental bridge is shown in this photo.
This patient came from Ireland and stayed from Monday to Friday of one week. Treatment was performed in only four hours on one day with the help of an Endodontist, Oral Surgeon, Joseph Tuil Dental Lab and Esthetic Dentist.
A second lab-processed temporary bridge, reinforced with Ribbond, was placed before the patient's departure. She will return from Ireland in three months for fabrication and insertion of the final porcelain teeth bridge. This second visit will also occur during one week.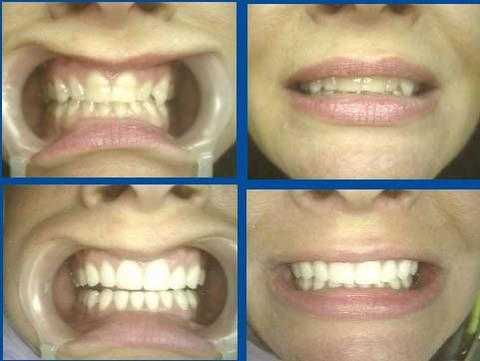 Esthetic Dentistry Before and After Pictures:
20 Porcelain Veneers laminates. Before: top photos showing discolored teeth. After: bottom photos showing 20 porcelain veneers several days later.