We are a low-volume office focused on people who have a fear of dentists. Therefore our treatment is quick and comfortable. Our team includes 16 cosmetic dentists, specialists and lab ceramists in one high-end midtown Manhattan office. In addition our MD-anesthesiologist offers several options for dental sedation and nitrous oxide laughing gas. We offer intelligent and honest diagnosis based upon 31+ years of experience. Before and after photos of people who are afraid of dentists performed in our Dental Anxiety Dental Fear office. By the way, smile makeover, oral rehabilitation and full mouth reconstruction all mean the same thing.
Our patients who have a fear of dentists also have access to comprehensive medical care
Moreover our patients have access to our affiliated team of 12 medical doctors in our building. This is because many people who have a fear of dentists also tend to have a fear of doctors. We help our patients holistically.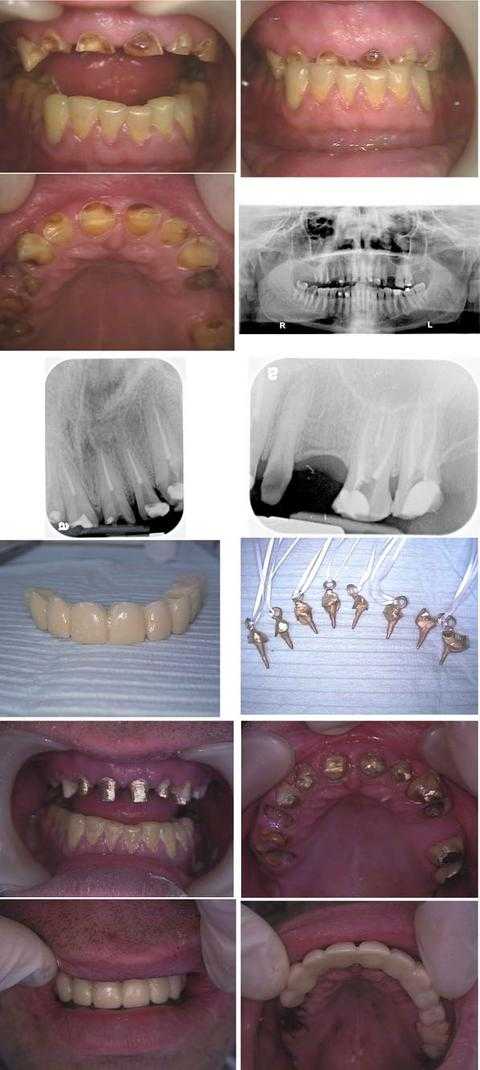 Oral rehabilitation of a Wall Street executive who had a fear of dentists
Total treatment time was about nine hours in two visits during one business week: Monday (four hours) and Friday (five hours). This patient hid his dental condition for over ten years by never smiling. He was very scared of dentists.
In the first row of photos, note that the occlusion teeth bite was over-closed due to a prior history of an eating disorder, now controlled, and a current teeth grinding habit.
An Oral Surgery consultation with panoramic x-ray (second row) was performed prior to treatment to evaluate opening the dental bite.
The third row shows x-rays taken after the Endodontist completed eight root canals on the first day on tooth #'s: 6 – 11 and 14, 15. This was accomplished with just enough dental sedation to keep the patient comfortable but he was awake the whole time.
The fourth row shows the dental laboratory processed 11 teeth temporary dental bridge and the cast gold post and cores – with Kaitlyn loops – for the root canal treated teeth.
The fifth row shows the cast gold post and cores cemented.
Behavior modification and controlling learned helplessness
The sixth row shows the lab-processed temporary bridge in place after the oral surgeon extracted tooth #'s: 3 – 5 and 12, crown lengthening gum surgery was performed on tooth #'s: 6 – 11, and a distal wedge gum surgery was performed on #15. The patient was not nervous or anxious during these dental procedures either. He did not feel helpless due to appropriate behavior modification during his office visit. He just felt emotionally comfortable during his smile makeover.
The patient will have a final porcelain metal teeth bridge made after the gums heal. Dental implants may also be placed in the upper right posterior. A bite plate is also necessary to try to mitigate the force of tooth grinding. Referral for pharmacological management of anxiety is also worthwhile. Before and after pictures. Image #1 of 2.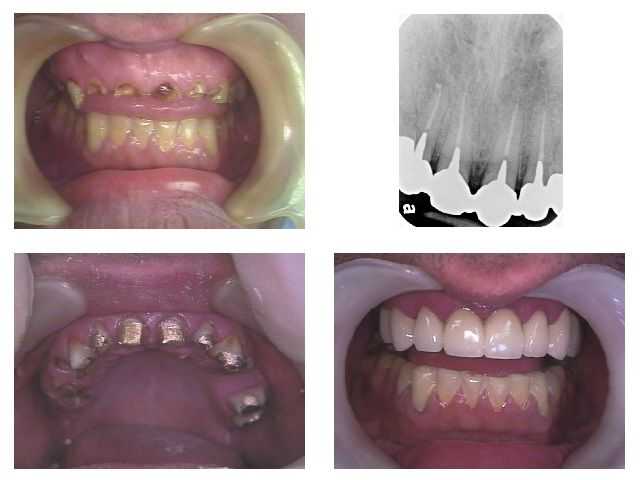 Smile makeover for a patient who had a fear of dentists
Before and after full mouth oral rehabilitation photos. The the way it is common to see people who are afraid of dentists. Therefore the most important thing we offer is control over the dental environment. This is based upon the work of Martin Seligman's psychology research on learned helplessness and depression. Incidentally Dr. Dorfman studied with Dr. Seligman at Penn in the 1980's. Image #2 of 2.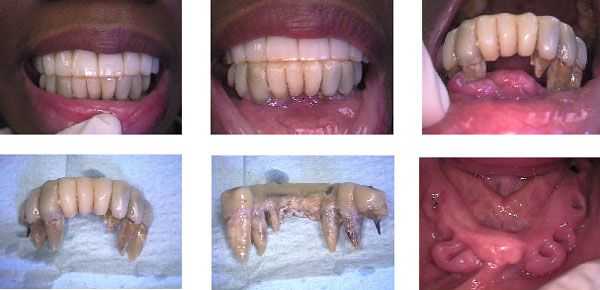 Fear of dentists treatment
This 40 year old female had a fixed bridge attached to teeth in her lower jaw that she could remove from her tooth sockets. She hadn't been to a dentist in over ten years due to dental phobia. We began treatment by making the patient comfortable. Then the Oral Surgeon removed the epulis fissuratum in preparation for dental implants.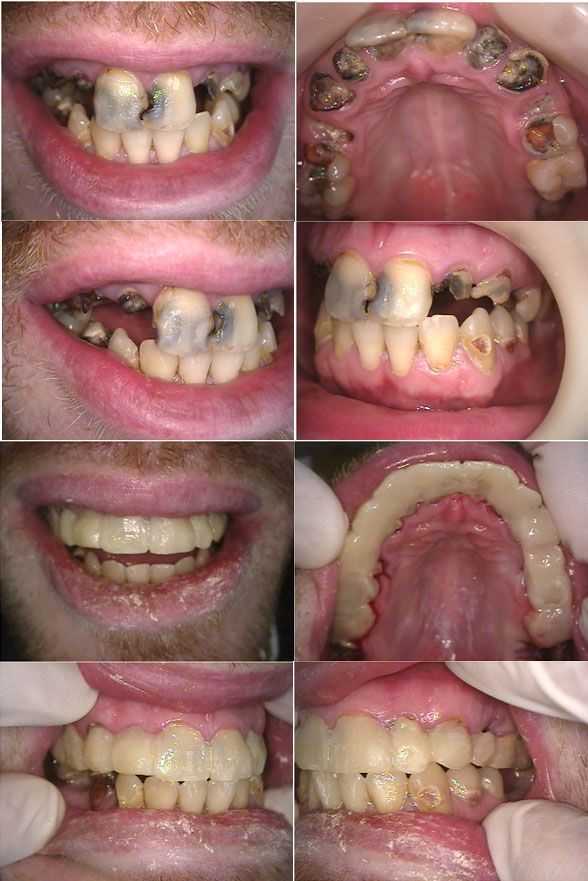 Upper Jaw oral rehabilitation with twelve temporary dental crowns for a dental fear phobia patient. Before and after photos. This smile makeover took two hours of treatment time during one morning. More dentistry is needed.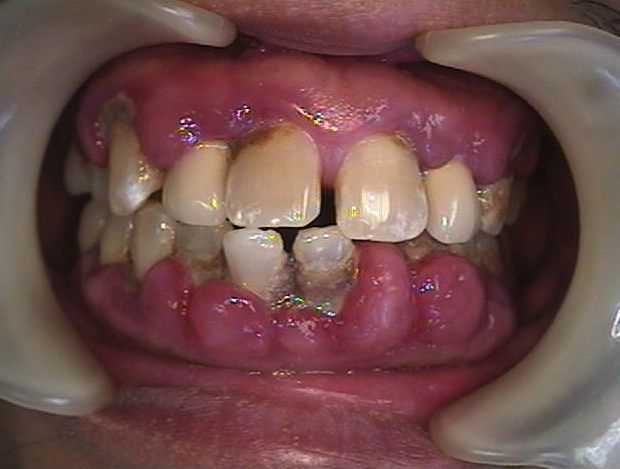 Fear of dentists plus Calcium Channel blockers for high blood pressure
This photo shows the effects of using Calcium Channel blockers with inadequate periodontal maintenance on a dental phobia anxiety patient. Calcium Channel blockers are commonly used to treat high blood pressure, angina pectoris and coronary artery disease. Physicians should obtain periodontal clearance before prescribing such medication. This patient began oral rehabilitation with dental sedation.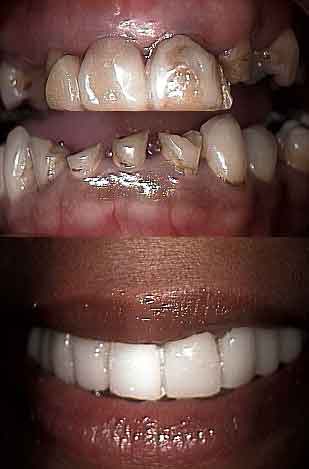 This very nervous dental patient seeking a smile makeover had a severe fear of dentists
This patient was too scared of dentistry to sit in the dental chair for several visits! She had been afraid of dentists for decades. Before and after pictures.
This patient had been wearing a very old, broken temporary dental bridge; she had been recementing it herself daily for years. The after photo shows a new dental laboratory processed provisional teeth bridge placed later that same day.
We successfully controlled this patient's dental fear phobia through emotionally supportive behaviors that gave her control over us.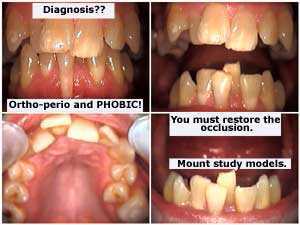 What is the diagnosis? Dental fear, dental  anxiety, nervous or scared of dentistry, or just afraid of the dentist
Whatever you call it this patient did not like dentistry! Dentists must learn to get inside a patient's head and heart before asking patients to open their mouth. Dentistry is about people not teeth.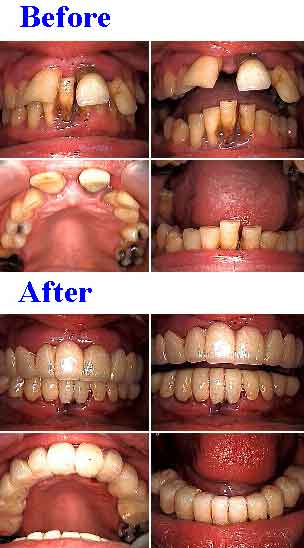 This person seeking full mouth oral rehabilitation was certainly scared of dentists
Oral Rehabilitation for a dental phobia patient. 20 temporary teeth crowns caps, 14 teeth received root canal and 6 teeth extractions. Smile makeover treatment time: one visit. Before and after photos.
This dental anxiety patient was successfully managed with behavior modification and nitrous oxide gas. She was a bright and successful businesswoman who had difficulty giving up control so we let her maintain it. She successfully overcame her fear of dentistry by learning she was not helpless when under the care of a dentist.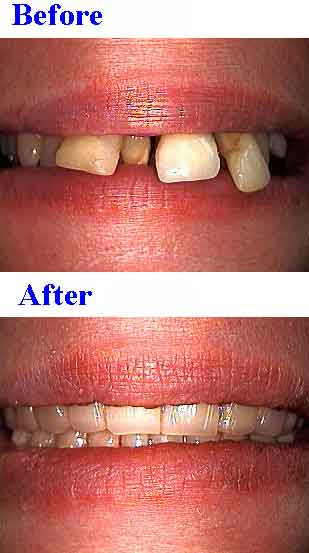 Smile makeover – oral rehabilitation – of a very nervous dental patient who had a childhood fear of dentists
Before and after pictures. This dentistry included two complete jaws of of temporary provisional dental crowns, root canal therapy performed on fourteen teeth and six teeth extractions.
This dental treatment took only one day from 9 am to 5 pm. The dental laboratory technicians and specialists including the Endodontist, Oral Surgeon and Periodontist were scheduled for specific times throughout the day.
This dental fear phobia patient was kept comfortable throughout the day with nitrous oxide laughing gas conscious dental sedation.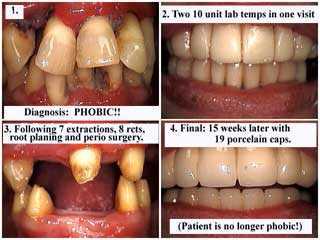 Oral rehabilitation for dental anxiety dental fear
This lovely retired woman had not been to the dentist in 18 years. There was significant mouth odor from the dental infection in her gums caused by oral bacteria. She was sick of it and wanted a smile makeover completed quickly and comfortably. Before and after pictures.
Dental sedation was provided with nitrous oxide – laughing gas – to achieve a comfortable state of conscious sedation. These before and after pictures document how much dentistry can be performed when a dental phobia patient is emotionally and physically comfortable. This dental treatment took 15 weeks only because of the time needed for healing of the gums otherwise it could have all be completed in one or two weeks.
This case is now over ten years old. The patient moved to Florida but flies up every three months for her regular dental prophylaxis and examination. She frequently brings morning bagels for the staff; she is no longer afraid of dentistry.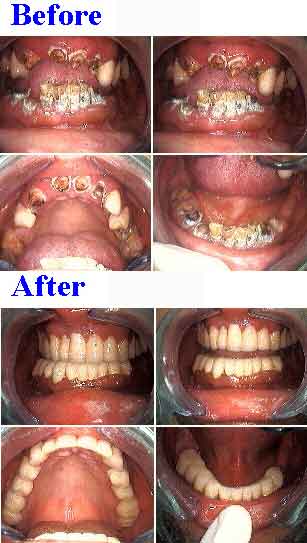 Smile makeover of a 40 year old male, married jeweler who – you guessed it – was afraid of the dentist!
This patient evidently made a New Years resolution to finally overcome his dental phobia fear and finally fix his teeth. He needed emotional help and it was readily provided as seen in these before and after pictures.
The patient learned to see his teeth as jewelry and became comfortable with the dental treatment. Then his dental anxiety disappeared. He did not experience tooth pain in the office. Temporary provisional dental crowns caps were placed during four days of dental treatment. More dental work remains for completion.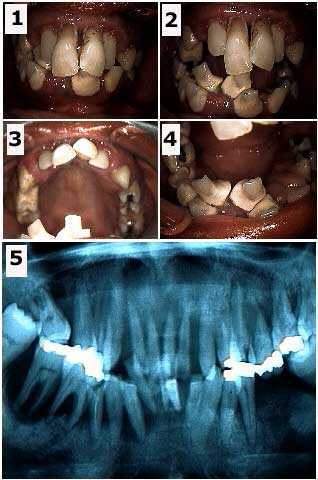 Full mouth oral rehabilitation of a dental phobia patient who had a significant fear of dentists
To the left are starting pictures. The initial visit may only focus on communication and listening to the patient's dental anxiety and fear. The next step is to determine what teeth, if any, may be saved at least temporarily. It is easier for a patient to emotionally adjust to fixed temporary teeth that have at least some amount of retention provided by natural teeth abutments. The teeth chosen were #6, 11, 22 and 28.
The decision to fabricate a removable immediate partial denture, rather than a fixed lab processed temporary teeth bridge, was determined by the particular periodontal weakness of tooth #28. The patient was informed that the immediate prosthesis was to be used during healing and that the four remaining teeth abutments, particularly #28, might be subsequently extracted.
She appreciated becoming involved in her dental treatment and this reduced her being scared of the dentistry. A little nitrous oxide conscious dental sedation also helped. People who are comforted emotionally can usually be treated with low levels of nitrous oxide.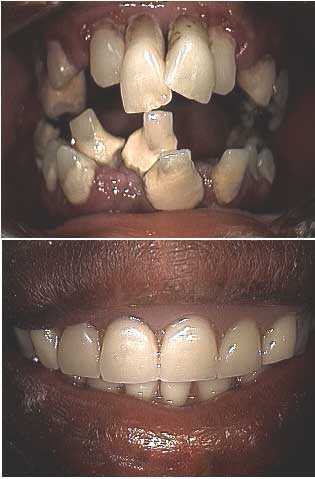 Before and after photos show a smile makeover dental anxiety dental fear patient after a one day oral rehabilitation
Help the patient overcome their fear of the dentist so they are not scared to walk into the dental office. Teach them they are not helpless; they are in control of the dentist and their dentistry. Help them not to be afraid.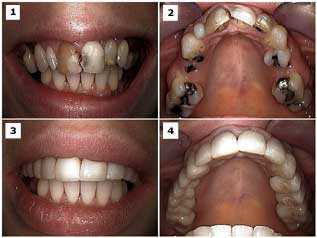 Full mouth oral rehabilitation for a pretty, 33 year-old female
This woman had multiple previous bad dental experiences and was actually not afraid of the dentist. However she avoided dentistry for many years because it all her prior dentistry quickly failed.
Dental treatment included porcelain fused to metal dental crown & bridge, root canal therapy on all teeth abutments, a root tip extractions, and facial cosmetic dental bonding on both upper lateral incisor teeth. The upper anterior root canal and dental crowns were first completed to show her how pretty her teeth could look and that it could be accomplished quickly and without tooth pain. The Oral Surgeon completed teeth extractions of the hopeless teeth at one time and initiated early to allow time for healing before final teeth preparation and impressions for teeth bridge work – dental crowns. Root canal was performed on the posterior teeth abutments before their preparation – drilling – for bridgework. The patient experienced minimal post-operative tooth pain. Controlling teeth pain with prophylactic endodontics root canal is ironically one method how to help dental phobia patients overcome their anxiety. No mouth pain means comfortable patients.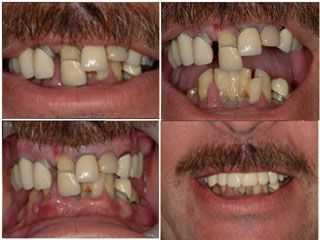 Early stage before and after photos of a smile makeover on a dental anxiety patient
Dentists should look for nervous behavior in all new patients because many people are initially ashamed to discuss it. Humor can help many people overcome their dental anxiety particularly if one can accomplish the dental treatment as planned.
In conclusion Dr. Jeffrey Dorfman created all of the dentistry shown on this 4,400 page website. In brief we offer intelligent & honest diagnosis and better results for our patients. Visit us when you want it done right the first time; you will save money by initially spending more. Therefore please call The Center for Special Dentistry®.