Our Dental Anxiety Dental Fear team includes 16 cosmetic dentists, specialists and lab ceramists in one high-end office in midtown Manhattan. In particular we focus on Dental Phobia for people who are scared of dentists. Some of our patients have an aversion to dentistry but many don't. Regardless, we are a low-volume office focused on Gentle Dentistry. Therefore our treatment is quick and comfortable.
In addition our MD-anesthesiologist offers several options for Dental Sedation. Nitrous oxide laughing gas is also available. We offer intelligent and honest diagnosis based upon 31+ years of experience. Before and after smile makeover photos of dental anxiety dental fear performed in our Dental Phobia Management office.
We offer unique New York dental phobia management techniques for comfortable dentistry that include:
Pain Control with gentle dental anesthesia during visits
Appropriate pain medication after office visits
Dental anxiety reduction with behavioral therapy
Medication is offered when necessary including Nitrous Oxide Laughing Gas & Dental Sedation including IV sedation
Realistic treatment plans and time/action calendars based upon individual patient needs
We provide emotional support and Dental Phobia Management
Our dental anxiety dental fear patients also have access to top medical care
Moreover our patients have access to our affiliated team of 12 medical doctors in our building. This is because many patients who suffer dental anxiety dental fear, and those who have a fear of dentists, also tend to neglect their overall medical health. We hope to improve your overall health one step at a time.
Before and After Treatment Photos of People Who are Scared of Dentists.
Professionally and/or physically powerful people frequently need assistance with Dentist Fear Management. This is because of their difficulty in giving up control over a sensitive part of their body. We have found that "C suite" executives and professional athletes are significantly more afraid of dentistry than various control groups. Men are usually much more likely to be afraid of a dentist than a woman. Therefore we give our patients the personalized care and control they need to feel comfortable.
Our Dental Anxiety Dental Fear Management program offers extra time to talk and be comfortable
New patients may consult with several of our cosmetic dentists and specialists to discover their specific dental condition and reduce their fear of dentistry. Our teaching private practice is very academically-focused. We leave extra time to make our patients feel comfortable. We clearly explain our diagnosis and recommended treatment in an unhurried manner. Phobic patients will learn about their dental condition and understand the benefits and risks of treatment. They will understand various treatment options including treatment time and cost, and methods for fear/pain control, before treatment begins. We typically photodocument our dentistry to provide our patients an understanding of their dental treatment.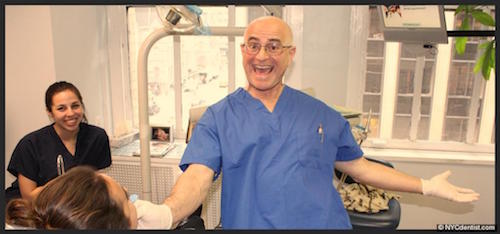 We seek the most difficult and challenging cases in dentistry and publish innovative solutions
This dental information website contains over 4,400 pages of original content including a Color Photo Atlas of Dentistry and Library. Dr. Jeffrey Dorfman is the dental phobia dentist who created this website. It is one of the most comprehensive dental websites in the world. Please use it as a resource for many of your questions. Dr. Dorfman has over twenty years combined professorships at Columbia and NYU dental schools. Dental students and young dentists visit to study from around the world. Visit us when you want it done right the first time; you will save money by initially spending more.
Our Dental Anxiety Dental Fear Management is perfect for dental phobic people from NY or around the world
Dr. Dorfman teaches dental students from around the world the method of how to deliver the most gentle dental shot or Novocaine injection. A typical dental office tends to see a much higher volume of patients. They do not have extra time to devote to each patient. We offer Nitrous Oxide laughing gas or other medication so patients relax and lose track of time. In addition Intravenous IV Sedation is available to patients who need it.
We give Novocaine injections differently
We offer many different types of Novocaine because some people may not get numb with the more common brands but will respond quite well to the lesser known – but more expensive brands. The amount of numbness achieved for dentistry can vary tremendously because of the different chemistry of the different brands. Novocaine is a commonly known brand and so many people incorrectly think that all dental anesthetic is the same.
Some areas of the mouth, like directly under the nose or the palate, are much more sensitive to dental injections. In these cases we will start the application of Novocaine in a less sensitive area first and give it time to get numb. Then a series of smaller injections will lead to the sensitive area but always remaining within the leading edge of the anesthetized gums. This results in a patient feeling minimal discomfort during injection in very sensitive areas of the mouth. This technique requires extra time and the desire & skill to offer pain free dentistry.
We start a Novocaine injection with the narrowest needle possible. If a wider, longer needle is necessary then it will not be used until after the patient is already numb in that area. The actual injection of the Novocaine into the patient is delivered very slowly. This is because many people experience pain from a sudden large volume of injected Novocaine. We offer highly personalized care.
We give our patients time to get numb before we start to work
Sometimes it is appropriate to wait five or ten minutes between injections; sometimes a patient may need 15 – 20 minutes for their teeth and gums to become fully numb. All of this takes time and cannot be offered in an insurance dental office. Insurance offices work on volume. They have to put a new patient in the same chair every thirty minutes. The extra time and supply costs we incur are worth the difference in patient comfort. Once the patient is comfortably numb then our multi-specialty team of cosmetic dentists, reconstructive dentists, dental specialists and master laboratory technicians work together in one office to offer a dramatic phase 1 smile makeover in one visit.
In conclusion Dr. Jeffrey Dorfman created all of the dentistry shown on this 4,400 page website. In brief we offer intelligent & honest diagnosis and better results for our dental anxiety dental fear patients. Visit us when you want it done right the first time; you will save money by initially spending more. Therefore please call The Center for Special Dentistry®.
Related Articles:
Back to Top
Understanding Treatment for People who are Scared of Dentists.

Cosmetic dental rehabilitation for a cross bite and fear

Dental fear and dentist phobia caused by helplessness

Oral rehabilitation for dental fear patient in one visit

Related Dental Photos:
Comfortable Treatment for Dental Phobia.

People who have a fear of dentists need gentle care.

Sedation dentistry offers treatment for dental anxiety.

Addiction dentistry treatment for drug and alcohol abuse

Allergic reaction to dental anesthetics like novocaine

Dental X-rays and radiographs in diagnosis and treatment

How to give gentle local anesthesia shots or injections

Nitrous oxide laughing gas helps dental relaxation

Related Videos:
Dental Phobia - Dental Fear lecture part 1 of 2

Dental Phobia -- Dental Fear lecture part 2 of 2

12 Ways To Differentiate Good vs Bad Dentistry: Part 1

Dentistry for Dentist Fear Dental Phobia

Good vs. Bad Dentistry. Part 8. Time & Novocaine

Good vs. Bad Dentistry. Part 9. Specialists