Our Sedation Dentistry team includes 16 cosmetic dentists, specialists and lab ceramists in one high-end office. In particular people visit us for our focus on Dental Anxiety. Therefore our treatment is quick and comfortable. In addition our MD-anesthesiologist offers several options for Dental Sedation and Nitrous Oxide Gas. We offer intelligent and honest diagnosis based upon 31+ years of experience. Before and after photos on dental sedation for dental anxiety performed in our Dental Anxiety Dental Fear office.
Our Sedation Dentistry patients also have access to top medical care
Moreover our patients have access to our affiliated team of 12 medical doctors in our building. This is because many patients who seek dental sedation also tend to neglect their overall medical health. We hope to offer you comprehensive healthcare.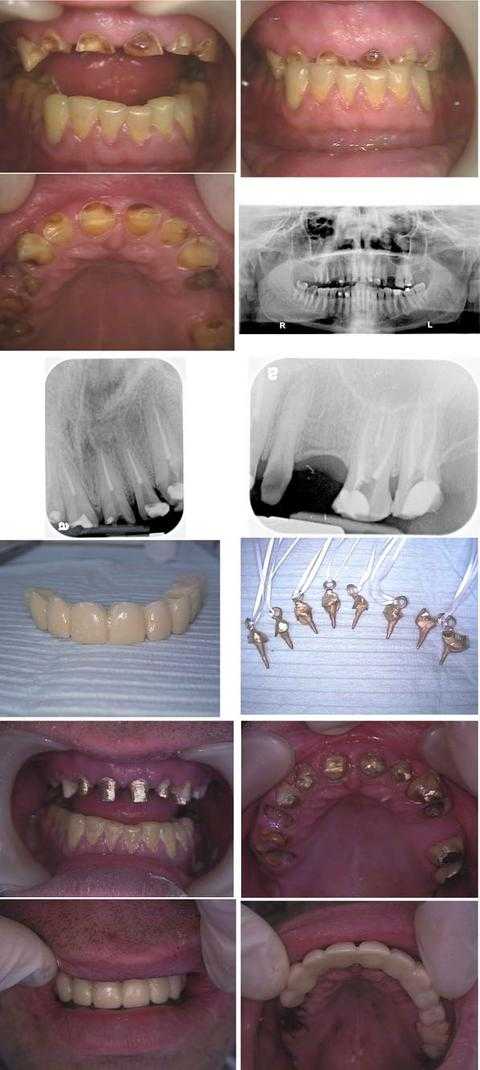 Sedation Dentistry during a Full Mouth Oral Reconstruction of a phobic Wall Street executive
Total treatment time was about nine hours in two visits during one business week: Monday (four hours) and Friday (five hours). This patient hid his dental condition for over a decade by not showing a smile.
In the first row of photos, note that the teeth bite was over-closed due to a prior history of an eating disorder, now controlled, and a current teeth grinding habit.
An Oral Surgery consultation with panoramic x-ray (second row) was performed prior to treatment to evaluate opening the occlusion dental bite.
The third row shows x-rays taken after the Endodontist completed root canal on eight teeth on the first day on tooth #'s: 6 – 11 and 14, 15.
The fourth row shows the lab-processed 11 tooth temporary dental bridge and the cast gold post and cores – with Katilyn loops – for the root canal treated teeth.
The fifth row shows the cast gold post and cores after placement with dental cement.
The sixth row shows the dental laboratory made temporary dental bridge in place after the oral surgeon extracted tooth #'s: 3 – 5 and 12, crown lengthening gum surgery was performed on tooth #'s: 6 – 11, and a distal wedge was performed on #15.
The patient will have a final porcelain metal dental bridge made after the gums heal. Dental implants may also be placed in the upper right posterior. A bite plate is also necessary to try to mitigate the force of tooth grinding. Referral for pharmacological management of anxiety is also worthwhile.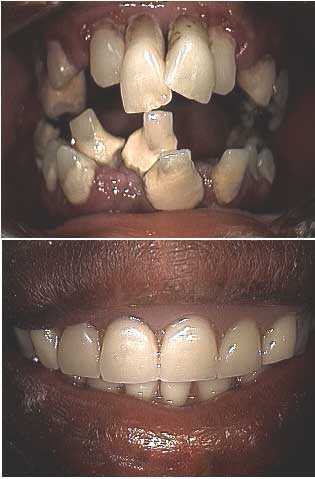 Visit our Dental Anxiety Dental Fear section to see more pictures of our dental treatment for dental sedation patients
Many people who come to our practice are embarrassed about: dental fear, dentistry anxiety, and/or being nervous or scared of the dentist. Powerful type A control freaks are the most afraid – and the most embarrassed about their dental phobia. They are not alone; it is what we do each day at The Center for Special Dentistry .
In conclusion Dr. Jeffrey Dorfman created all of the dentistry shown on this 4,400 page website. In brief we offer the best choices in Dental Sedation and comfortable sedation dentistry. Visit us when you want it done right the first time; you will save money by initially spending more. Therefore please call The Center for Special Dentistry®.