Periodontics treats bad breath and bleeding gums. Gum disease treatment intends to eliminate the bacterial infection that also causes a bad taste in the mouth. This is frequently also associated with swollen gums. Our gum disease treatment team includes 16 cosmetic dentists, specialists (including a Periodontist) and lab ceramists in one high-end midtown Manhattan office. Our staff Periodontist provides conservative gum treatment and utilizes periodontal gum surgery only as a last resort.
As a result we are able to offer quick and comfortable non-surgical gum care. We offer intelligent and honest diagnosis based upon 31+ years of experience. We use the finest materials and top labs. Along with our dental hygienists we teach our patients the many choices they may have regarding the nature of their specific type of gum disease, various preventative measures they may employ at home and the benefits & risks of each type of proposed periodontal therapy. Visit us for the finest gum disease treatment.
Before and after photos on bleeding gums around crowns bridges and caps performed in our Gum Disease Treatment office.

Gingivectomy performed during a crown preparation. The distal lingual cusp of this tooth had fractured and the patient ignored it. The biologic width was not invaded because the excised gum was hypertrophied.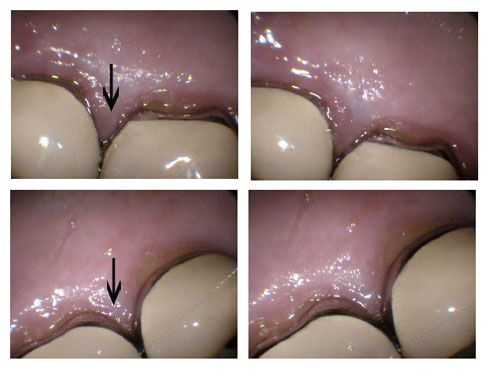 The top photos show inflammation of the the gingival margins – gums – between two upper right dental crowns. The top arrow points to a purple, inflamed gingival papilla that was sensitive. The patient also noticed gum bleeding after using dental floss or a toothbrush. The bottom pictures show two upper left dental crowns in the same patient that are not inflamed. The bottom arrow points to pink, non-inflamed gum tissue.

Two cast gold post and cores. The distal margin of the tooth on the left went subgingival, but not so deep that crown lengthening gum surgery was necessary. I chose to end the distal dental crown margin on the gold casting instead of on 2 mm of tooth structure because 75% or more of the crown margin did end on 2 mm of sound tooth structure beyond the casting. On the tooth on the right I chose to end the crown margin in the more typical manner, which is on two millimeters of sound tooth structure. Sometimes rules can be broken if logic dictates and in this case I considered it worthwhile to help the patient avoid gum surgery.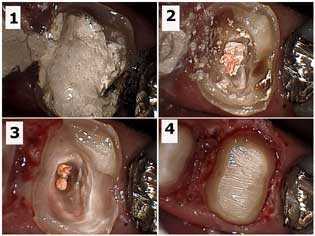 Crown build-up of a badly broken down upper right first molar tooth after root canal. Photo 1) Cavit, temporary filling material, in the tooth following root canal therapy. Photo 2) Gutta percha exposed in the pulp chamber after removal of the Cavit. Tooth decay is still present. Photo 3) Cavity removal and preparation into the canal orifices to aid in mechanical retention of the bonded core. Photo 4) Final preparation after electrosurgery – gum surgery – in the distal section of the tooth.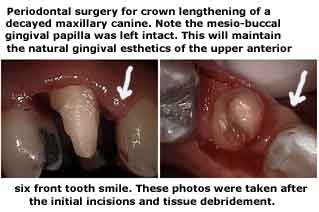 Dental crowns and gums. Periodontal gum surgery for crown lengthening on a canine that has tooth decay below the gumline. The mesio-buccal gingival papilla gum point was left intact for esthetic considerations. Note: last line reads "…the initial incisions and tissue debridement."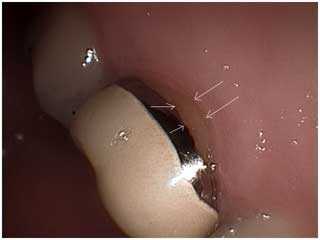 Photo showing gingival gum recession around an old dental crown. This can make the tooth very sensitive to touch, air and/or hot & cold liquids. Treatment depends upon the severity of the subjective symptoms and can range from: 1) do nothing and reevaluate, 2) using desensitizing agents, 3) periodontal gum surgery to add gum to that area or 4) remaking the crown with or without root canal therapy.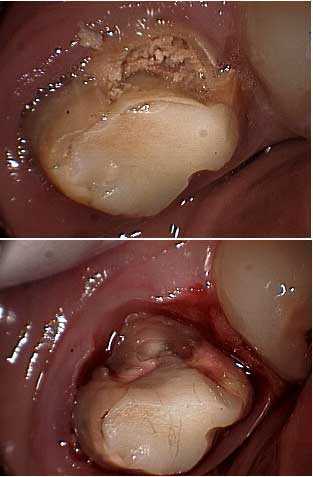 Photo showing dental caries – tooth decay – on a molar and extending below the gum. This has to been removed before referring the patient for crown lengthening periodontal gum surgery so the periodontist knows how much osseous reduction is necessary.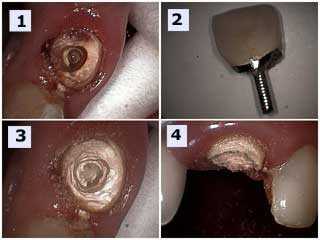 Pictures showing an upper anterior porcelain crown failure. 1) Tooth decay. 2) The failed porcelain crown with the prefabricated post still in it. 3) and 4) Tooth preparation – drilling – to determine the need for gum surgery.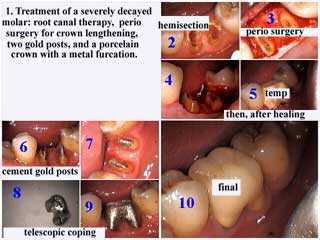 Photo series showing treatment of severe molar tooth decay:
– root canal, endodontics.
– gum surgery to grab more tooth structure.
– two gold posts.
– porcelain teeth crown with a metal furcation.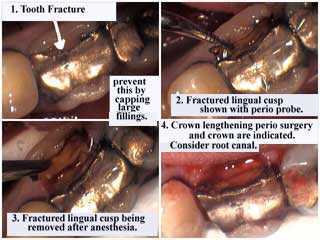 Placing caps on teeth with large dental fillings will help prevent vertical tooth fractures and other possible fractures below the gum.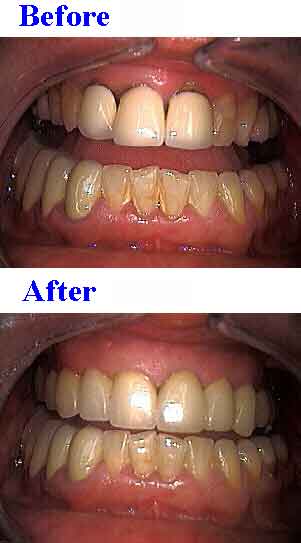 Porcelain teeth caps replacing old, poorly fitting dental crowns in the entire mouth. Bleeding gums are one symptom of poorly fitting crowns.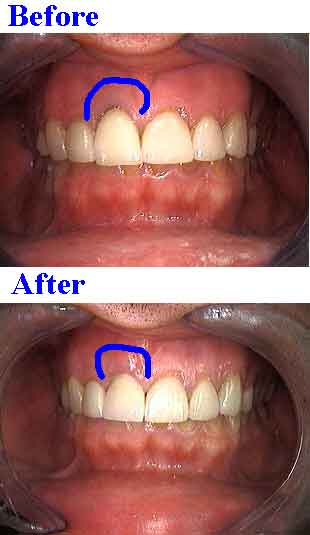 Before and after pictures. Minor gum surgery and a new porcelain cap eliminated the dark black gum area noted in the top image.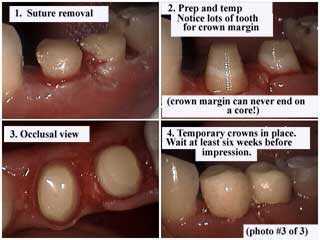 Before and after pictures showing teeth after crown lengthening gum surgery, suture removal and crown prep [*Notice lots of tooth for crown margin — crown margins can NEVER end on a core!]. After the temporary dental crown is placed, wait at least 6 weeks before taking an impression for final teeth caps.