Before and after photos on bone loss from periodontal disease seen in x-rays performed in our Gum Disease Treatment office.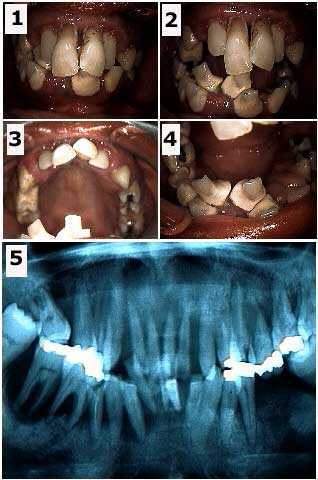 Full mouth oral reconstruction of a dental phobia fear patient with severe periodontal gum disease. Top pictures and bottom x-ray. The initial visit. It is important to determine what teeth, if any, may be saved at least temporarily because it is easier for a patient to emotionally adjust to a temporary dental prosthesis that has at least some amount of retention provided by natural tooth abutments. An intra oral examination and careful review of the dental xray will help make that diagnosis.
The teeth that were chosen to initially save were #6, 11, 22 and 28. The decision to fabricate a removable immediate partial denture, rather than a fixed lab-processed temporary dental bridge – our strong preference – was determined by the particular weakness of tooth #28. The patient was informed that the immediate prosthesis was to be used for the healing phase and that the four remaining abutments, particularly #28, might be subsequently extracted. Note that in this case we used a Panoramic x-ray rather than a full set of individual little x-rays because of the patient's dental anxiety and the severity of her dental disease.