Before and after photos on osseous reduction surgery and a periodontal flap performed in our Gum Disease Treatment office.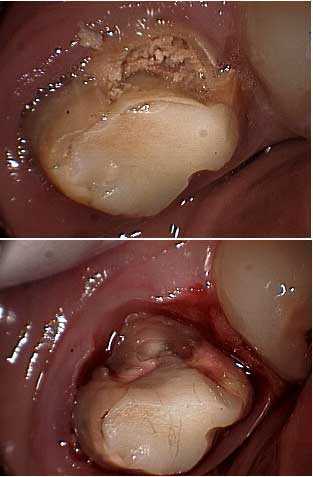 Dental caries in a molar tooth. This tooth decay has to be removed before referring the patient for crown lengthening periodontal gum surgery so the Periodontist knows how much osseous reduction is necessary. This gum surgery is typically performed on otherwise healthy gums around an unhealthy tooth to obtain more tooth root for a dental crown to grab onto. Most other gum surgeries are performed on unhealthy gums.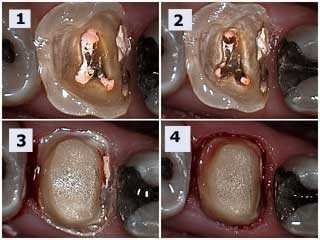 Crown buildup following root canal in a molar tooth. Photo 1) Following root canal. Photo 2) Tooth preparation -drilling – for the crown buildup. Note the preparation into the root canal orifices creates mechanical retention for the composite tooth bonding core. 3) Initial shoulder preparation for the dental crown margin. 4) Bevel placement for the dental crown margin. This tooth needs crown lengthening periodontal gum surgery with osseous reduction.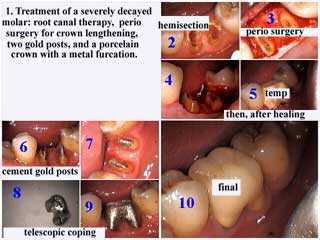 Treatment of a severely tooth decay cavity in a molar with :
– root canal therapy.
– periodontal gum surgery for crown lengthening.
– two gold posts.
– porcelain tooth crown with a metal furcation.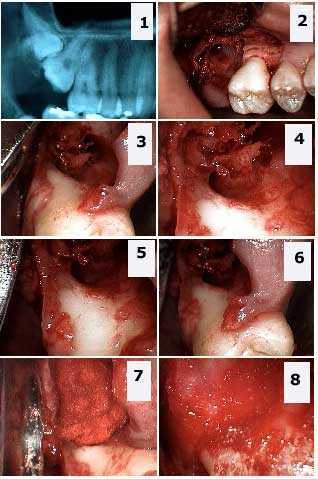 1) X-ray shows the impaction of a second and third molar. Pictures 2) – 6) Different views showing the large osseous defect and the significant exposure of the distal furcation of the first molar tooth. 7) – 8) Packing the defect with freeze-dried bone graft and gelfoam.