NY dental veneers are placed on dark rotated teeth. These before and after photos show treatment performed in our Porcelain Veneers office. Tetracycline stained these teeth. Rotated teeth are seen.  Orthodontics would correct the rotations. However it would not correct the color. Teeth whitening offers a small improvement on Tetracycline-stained teeth. Therefore this patient chose veneers to improve both the rotations and color at one time.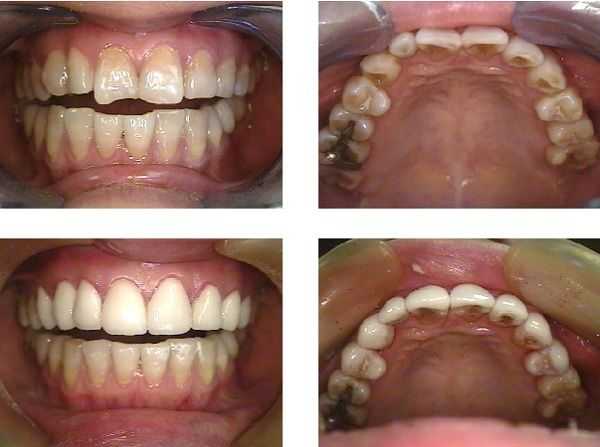 Dental Veneers before and after photos
They are used to treat dark teeth color and rotated teeth. Facial and occlusal views.

Dental Veneers placed in the upper jaw
This corrects rotated teeth and hides gray tetracycline-stains on teeth.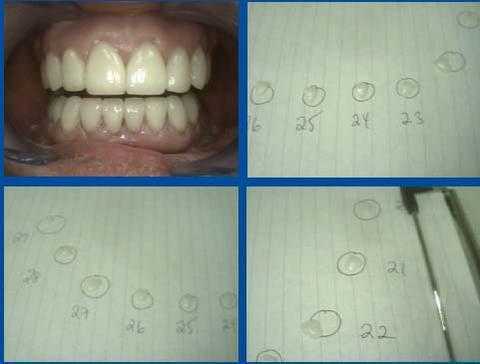 Placing ten lower porcelain veneers (dental laminates or dental veneers)
The upper ten veneers are already on. It is worthwhile to confirm the fit of each veneer to the master die and carefully separate them before placement. It is very easy to confuse one with another!!
Dental veneers require special skills
Dental veneers and porcelain veneers are the same thing. Veneers are similar in size and structure to an artificial fingernail or tips. Veneers are very fragile until they are glued onto a tooth. Therefore this makes porcelain veneers quite difficult to handle.
Our NY dental veneers are made . We work chair side with our master ceramists whenever it is necessary. We can build custom shapes and shades into the porcelain. We do not offer mass-market porcelain.
Porcelain crowns require more tooth removal than porcelain veneers
Interestingly it is more difficult to remove less tooth structure. Accordingly it can take more time to prepare or drill a tooth for a veneer. It is also more difficult to make a veneer that does not fall off. In general the need for root canal therapy increases when more tooth structure is removed. Lastly a porcelain crown makes subsequent access to the root canal more difficult.
In conclusion, please visit us at The Center for Special Dentistry® when you are seeking really exceptional NY dental veneers.