The Center for Special Dentistry offers the finest Porcelain Veneers,  dental laminates. The teeth are prepared by a top NY cosmetic dentist and crafted by local New York Master Ceramists. Our Porcelain Veneers team includes 16 cosmetic dentists, specialists and lab ceramists in one high-end midtown Manhattan office. As a result we are able to offer quick and comfortable porcelain veneers. In addition an MD-anesthesiologist offers several options for dental sedation. Porcelain veneers and dental laminates are synonymous.
We offer intelligent and honest diagnosis based upon 31+ years of experience. Our treatment is quick and comfortable. We use the finest materials and top labs.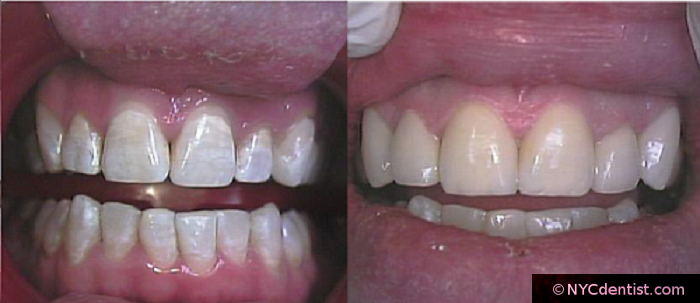 ABOVE: Four Porcelain Veneers hide tetracycline-stained teeth. This patient chose a color that wisely matched his lower teeth so he didn't need more veneers.
Porcelains are like fabrics; you can differentiate quality materials from the mass market. Therefore we proudly do not offer the mass-marketed porcelains advertised on TV like Lumineers. Particularly you should learn why before you begin this procedure. Instead we prepare teeth to accept the ideal shape of our porcelain veneers. Moreover the custom-made porcelain is individually characterized for each patient.
Our porcelain veneer patients also have access to top medical care
Moreover our patients have access to our affiliated team of 12 medical doctors in our building. This is because of the known relationship between dental disease and other medical diseases like heart disease and diabetes. We hope to improve your overall health one step at a time.

ABOVE: 24 Porcelain Veneers – 12 on the upper teeth and 12 on the lower teeth.


ABOVE: Four Upper Porcelain Veneers & Sculpting or Reshaping the lower front teeth. Treatment time: two visits.
Master Ceramists work chair side with Master Clinician Cosmetic Dentists
When needed, CSD Master Ceramists will work chairside with our Cosmetic Dentists to create exceptional porcelain shape and color matching to surrounding teeth. As an example we can even create imperfections in your porcelain veneers so you don't look too perfect!
There are dozens of different main brands of dental porcelain just as there are dozens of different main brands of ice cream. The quality of these porcelain and ice cream brands can vary tremendously with the quality and density of the ingredients and the amount of air incorporated into it. Can you taste the difference between a generic store-brand ice cream compared to a super premium brand? Similarly we can easily show you the difference in dental porcelain.
Our Porcelain is handmade in New York City
A lot of American dental porcelain is made in a high-volume assembly line manner. This can occur either in the U.S. or overseas, where the chemical composition of the porcelain is unknown. The final porcelain color, shade and characterization – if any – are painted on and baked as a last step. In our practice the porcelain is hand-made by our Master Ceramists in New York City who have anywhere from twenty to fifty years experience. The color, shade and characterization are built deeper into the very beginning of the porcelain to give the greatest natural look. This is demonstrated by our ability to frequently make only one front upper porcelain tooth to match the other. This is in contrast to many other dentists who will recommend two or four front porcelain teeth just to match one tooth! We simply offer the finest New York dental veneers.
Before and After Photos of New York Porcelain Laminates.
Most of our master clinicians in cosmetic dentistry, the various dental specialtists and our master ceramist lab technicians have over 30 years experience each. Many have teaching appointments or professorships at top NY dental schools. Dr. Jeffrey Dorfman, Director, has has been practicing since 1985 and has over twenty years combined professorships at Columbia and NYU dental schools. His teaching programs attract dental students and young dentists who visit from around the world.
See our Before and After Photos of NY Dental Bonding.
Prevent Black Triangles by preserving the interdental papilla
Look in the mirror and notice the little peninsula of pink gum tissue that extends in between two adjacent healthy, natural teeth that we call The Interdental Papilla. Now look at this papilla between two teeth that are covered with porcelain crowns or veneers. Does this latter papilla appear red (inflamed) and not pink? Does it appear swollen and/or misshapen? Gum recession can cause the loss of the papilla. Does it show a noticeable Black Triangle where you collect food? Are beginning to notice a black gum line? At CSD our Multi-Specialty Cosmetic Dental practice includes a Periodontist on staff. The Periodontist works to minimize the chance of all the above from happening to you long after you have paid for this dentistry!
Master Craftsmen make our porcelain veneers locally
Our Lab Technicians are Master Ceramists who work chairside in our office to provide truly gorgeous porcelain veneers. In our porcelain you will see custom characterization and shading built into the body of the porcelain so that our dentistry looks natural. Some patients want all four upper front teeth to be of uniform length and others want the two front teeth to be slightly longer. We can build it either way and provide the proper advice. We can even build slight imperfections like chips, stains and/or mild rotations into our porcelain to make it look real.
Our Dental Veneers and Porcelain Crowns are truly unlike typically uniform – and fake-looking – white teeth. Learn why we do not offer the mass-market porcelain brands like Lumineers.
This website documents over 4,400 pages of dentistry performed by Dr. Jeffrey Dorfman and staff
Dr. Jeffrey Dorfman has created all of the dentistry shown on this 4,400 page website. Visit us when you want it done right the first time; you will save money by initially spending more. Finally, please call The Center for Special Dentistry®.
Related Dental Photos:
Back to Top
Porcelain veneers for short teeth can increase length.

Porcelain Veneers on the upper front teeth and lower front teeth.

Dental Veneers for dark rotated teeth.

Broken crown repair with cosmetic porcelain bonding

How to fix problems with porcelain veneers

How to place porcelain veneers on teeth

How to prepare or drill porcelain laminates

Porcelain dental veneers can close teeth gaps or spaces

Porcelain laminates means dental porcelain veneers

Porcelain veneers and ceramic dental crowns

Repair broken porcelain veneers and chips

Smile makeover with porcelain veneers hides color

Veneers for teeth that are gray or yellow color

Yellow and gray teeth color and porcelain veneers

Related Videos:
Why we don't offer Lumineers Porcelain Veneers

Why we don't offer Snap-on Smile