Before and after photos on smile makeover with porcelain veneers hides color performed in our Porcelain Veneers office.

Porcelain veneers used for teeth whitening. The before photo shows the stump shade which helps us measure how much opacity (color-blocking) is needed in the porcelain.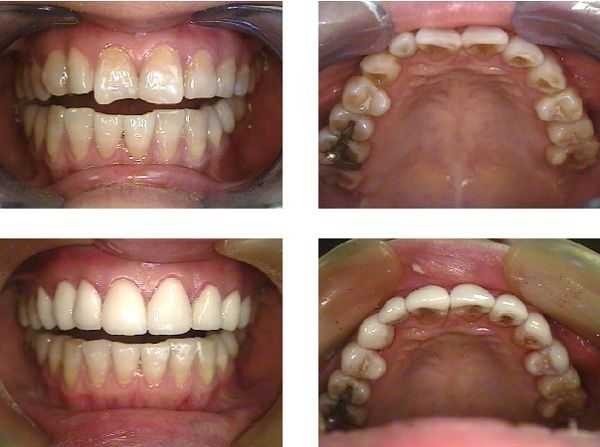 Eight porcelain veneers were placed in the upper jaw. Note the rotated teeth in the top right photo and how they were corrected in the bottom right photo. A Zirconium substructure was used to help whiten these very gray teeth. This treatment took two visits.

Porcelain Veneers were placed in the upper jaw to hide gray teeth. Treatment time – two visits.

Smile Makeover with full mouth porcelain teeth veneers.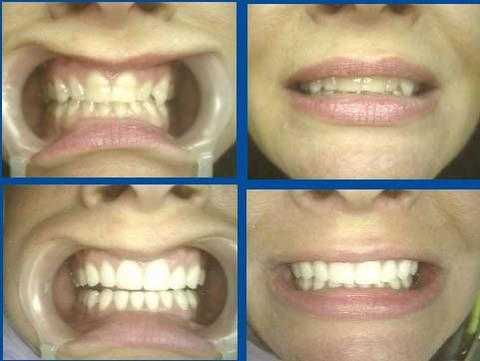 20 Porcelain Veneers teeth laminates for a fashion model. Before and after smile makeover pictures.
Before: top photos showing discolored teeth.
After: bottom photos show 20 porcelain teeth veneers several days later.

20 Porcelain teeth Veneers dental laminates in the top and bottom jaws. Before and After smile makeover pictures. This lovely patient wanted to treat one jaw at a time. Final photo shown.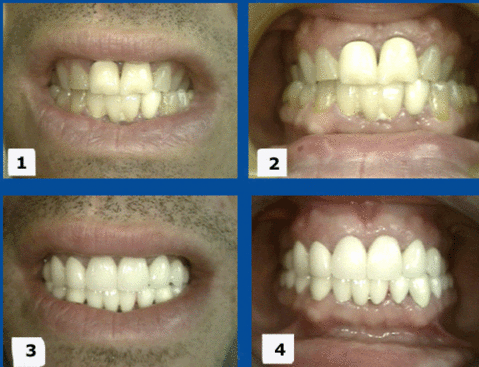 Smile Makeover. 1) & 2) Before Photos. 3) & 4) After Photos. A combination of 20 all-porcelain Zirconium dental crowns, porcelain veneers and a lower front teeth bridge were placed. The patient had discolored natural teeth that color matched yellow old dental crowns. He also had a severe bilateral, posterior crossbite. The cross bite means the upper back teeth closed down inside the lower back teeth. Total treatment time was about four weeks.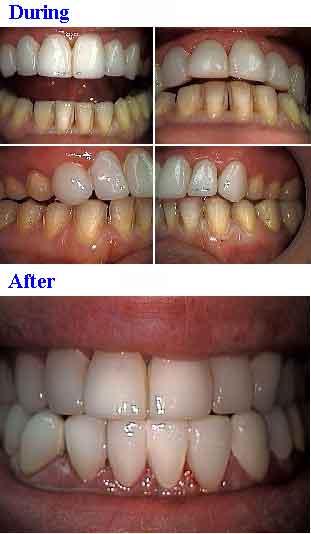 Cementation of 20 Porcelain Veneers teeth laminates. How to smile makeover pictures. Only six upper teeth veneers are cemented in these photos. The other teeth have already been prepared and will be cemented next.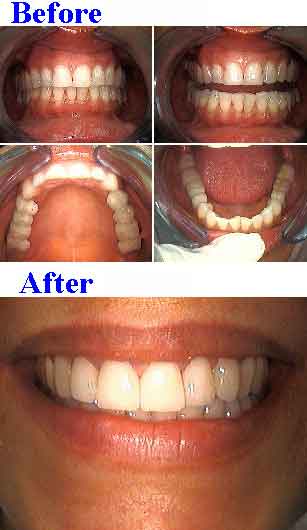 Porcelain Laminates porcelain veneers for the upper six front teeth. Before and after smile makeover pictures.
When possible, try to avoid placing dental veneers on the six upper front teeth because the six upper front teeth are usually already prominent in most people. Consider placing 12,10, 4 or 2 teeth veneers in the upper jaw so that they don't end on a prominent tooth – the canines.
These six porcelain veneers came out nicely anyway.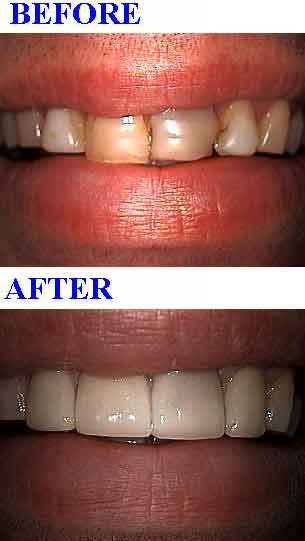 Four upper porcelain veneers teeth laminates. Before and after smile makeover pictures. Treatment time: one day. Completed two days before this acclaimed musician performed at Carnegie Hall.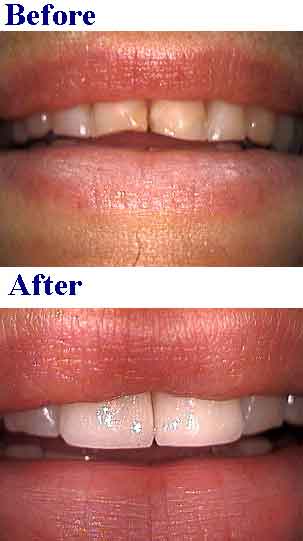 Two upper porcelain teeth veneers dental laminates. These teeth veneers were placed after several teeth whitening visits. Teeth whitening should be completed before the fabrication of dental veneers since porcelain does NOT whiten and should not be bleached because it will damage the porcelain.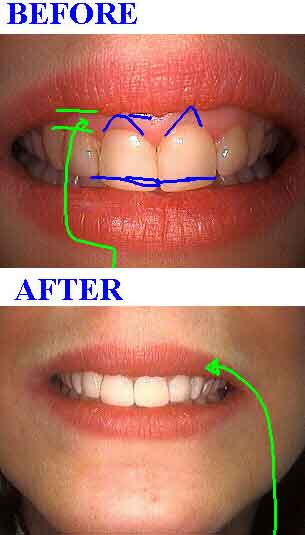 Reducing too much gums seen in a smile using minor gum surgery and Teeth Veneers. Porcelain teeth veneers were placed on the four upper front teeth. Office teeth bleaching was also performed. The Periodontist removed a small amount of the gums around the neck of these four front teeth so that the teeth veneers ended higher on the gum. This helped to reduce the gummy smile that the patient did not like.