Before and after photos on crossbite and underbite performed in our TMJ Bite Guards office.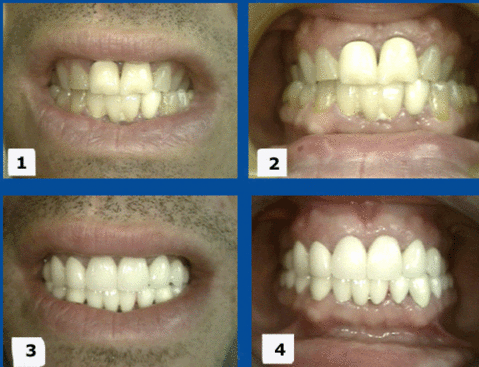 Smile Makeover. 1) & 2) Before Photos. 3) & 4) After Photos. A combination of 20 all-porcelain Zirconia crowns, porcelain veneers and a lower front bridge were used to treat natural tooth discoloration (and yellow old crowns) and a severe bilateral, posterior cross-bite. The crossbite means the upper back teeth closed down inside the lower back teeth. Total treatment time was about four weeks.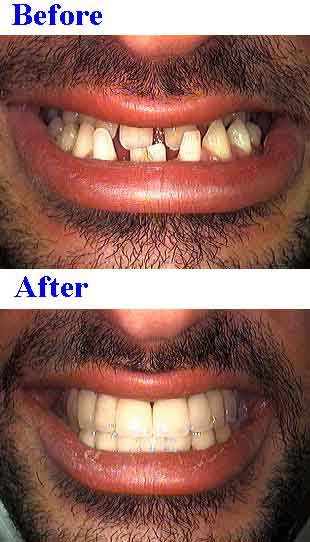 Cosmetic dentistry treatment of an underbite – lower jaw in front of upper jaw – and retained baby teeth. Treatment time was 16 days.
Two 14 unit porcelain metal teeth bridges, were used to increase vertical dimention and "jump" the under bite. This patient definitely decided against orthognathic treatment.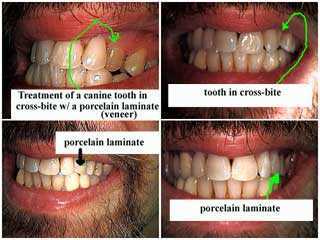 Cosmetic treatment of a tooth in cross bite with a porcelain veneer laminate. The words cross bite and crossbite mean the same thing.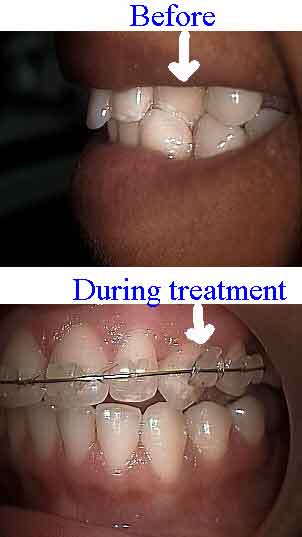 These pictures show "Jumping" a crossbite with fixed orthodontics. Note that the canine tooth was moved from a palatal (inward) inclination to a labial (outward) inclination in about six weeks.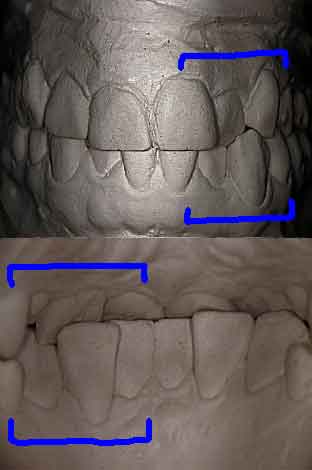 This is a frontal and lingual view of a plaster study model of the same dentition. Note the anterior cross bite with the maxillary left lateral and the mandibular left canine teeth.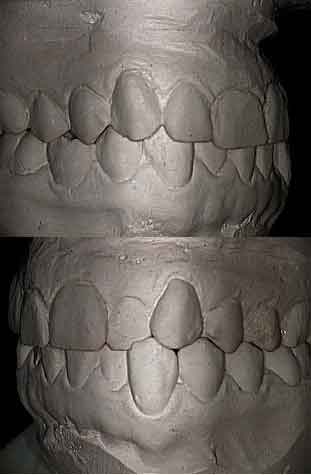 Lateral views of the same dentition. Note the anterior crossbite between the upper lateral incisor and the lower canine on one side. A fixed orthodontic appliance teeth braces could be used to correct this cross bite.