Photos on traumatic occlusion and occlusal trauma created in our TMJ Bite Guards office.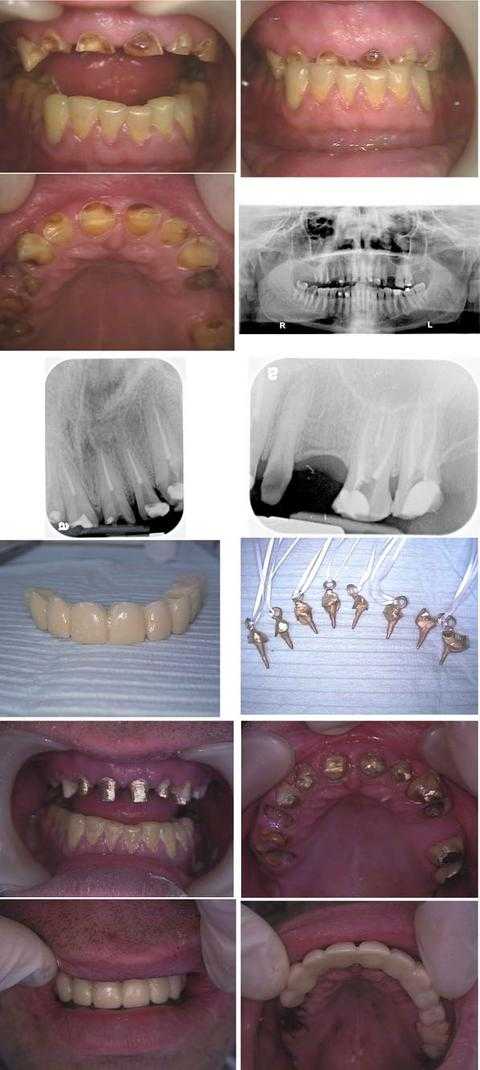 Traumatic occlusion from bruxism teeth grinding. Full Mouth Oral Reconstruction of a dental fear phobia patient who was a Wall Street executive. Total treatment time was about nine hours in two visits during one business week: Monday (four hours) and Friday (five hours). This patient hid his dental condition for over a decade by never smiling.
In the first row of photos, note that the dental teeth bite was over-closed due to a prior history of an eating disorder, now controlled, and a current teeth clenching grinding habit.
An Oral Surgery consultation with panoramic xray (second row) was performed prior to treatment to evaluate the TMJ before opening the dental bite.
The third row shows xrays taken after the Endodontist completed root canal on eight teeth on the first treatment day on teeth #'s: 6 – 11, 14 and 15.
The fourth row shows the dental laboratory fabricated 11 teeth provisional dental bridge and the cast gold post/cores – with Kaitlyn loops – for the root canal treated teeth.
The fifth row shows the cast gold post and cores after insertion with dental cement.
The sixth row shows the provisional dental bridge in place after the Oral Surgeon performed teeth extractions on teeth #'s: 3 – 5 and 12, crown lengthening gum surgery was performed on teeth #'s: 6 – 11, and a distal wedge was performed on tooth #15.
The patient will have a final porcelain metal dental bridge made after the gums heal. Dental implants may also be placed in the upper right posterior. A bite plate is also necessary to try to mitigate the force of teeth grinding. Referral for pharmacological management of anxiety is also worthwhile.

A Russian investment banker came from Moscow for fast and aesthetic replacement of an upper front broken tooth. Understanding the etiology of the upper broken tooth fracture, and treating it, will help prevent recurrence. In this case, the supraeruption of the lower front teeth need incisal adjustment to reduce their length. It is the lower teeth movement that resulted in the hyperocclusion – traumatic occlusion or occlusal trauma – against the now broken upper front tooth dental crown.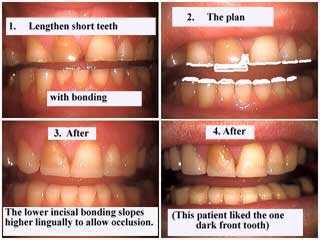 A traumatic occlusion from teeth grinding can severely damage teeth and dramatically erode the biting surfaces. A bite plate night guard is indicated. In these before and after pictures the patient wanted to cost effectively restore some of the lost teeth length before making the bite plate.
Incisal cosmetic dental bonding was placed on the upper and lower anterior teeth but beveled at a 45 degree angle relative to each other to help mitigate biting forces. The patient was informed of the limits of this treatment.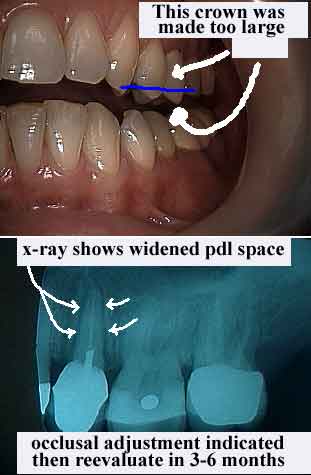 Occlusal Trauma. This picture and x-ray shows traumatic occlusion resulting from a poorly designed dental crown. The oversized dental crown created a hyperocclusion or malocclusion. Occlusal adjustment was performed on this dental crown by reducing some of the porcelain height with a dental drill so that during centric relation – the patient's natural teeth bite – this one tooth was no longer biting harder than the surrounding teeth. If this is not diagnosed and treated early then this tooth could suffer irreparable damage and manifest as severe bone loss and gum disease.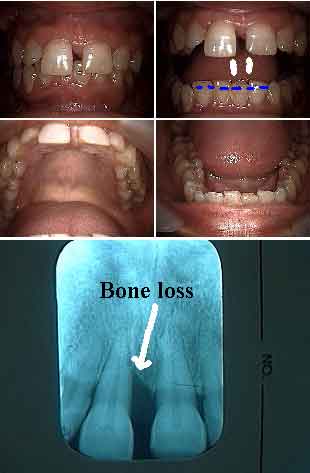 Occlusal periodontal – combined bite gum – problems. A bad bite can cause periodontal gum disease because of occlusal trauma. This 40 year old patient's front teeth increasingly moved out towards her lip and down and she now has a teeth gap space. Fremitus on tooth #8 – a form of traumatic occlusion – was noted as was the deep bite. Consider sculpting incisal adjustment of the lower anterior teeth, then periodontal scaling & root planing and then probably periodontal gum surgery in the upper anterior. Following gum healing consider teeth bonding with a palatal splint after reducing the incisal length of tooth #8. This tooth moved easily back into a ideal tooth position with light finger pressure before the splint was placed. The lower incisal occlusal adjustment created the room to move this upper tooth back.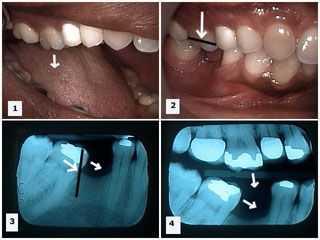 Occlusal trauma (traumatic occlusion) – hyperocclusion of the teeth bite following casual tooth extraction. Supraeruption and mesial drift occurred after tooth extraction of a mandibular first molar. Pictures 1) -2) Show the upper first molar tooth has supraerupted because its opposing antagonist, the lower first molar tooth, has been extracted. Xray 3) Mesial drift of the lower second molar occurred after the extraction of the lower first molar. Xray 4) Both supraeruption of the upper first molar and mesial drifting of the lower second molar can be seen in this one xray after extraction of the lower first molar. Tooth extraction can frequently cause significant occlusal bite problems that can result in a traumatic occlusion if not actively prevented. Extracting a tooth and leaving teeth gaps may seem like an inexpensive choice – until you have to fix the problems caused by hyperocclusion and a pathologic occlusion!