Our endodontics team includes 16 cosmetic dentists, specialists including two endodontists – root canal specialists – and lab ceramists. In particular our low-volume office offers high-end care including placement of crowns after completion of root canal. Therefore our treatment is quick and comfortable. In addition our MD-anesthesiologist offers several options for dental sedation and nitrous oxide laughing gas. We offer intelligent and honest diagnosis based upon 31+ years of experience. Before and after cavity photos on indirect pulp cap treats reversible nerve pulpitis performed in our Root Canal office.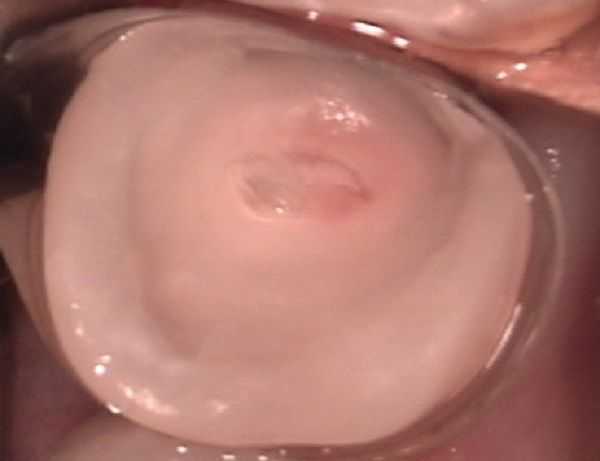 The dental pulp (tooth nerve or root canal) is seen in the middle of this preparation through a thin layer of dentin. This dentistry takes skill and time to avoid post-operative dental nerve pulpitis.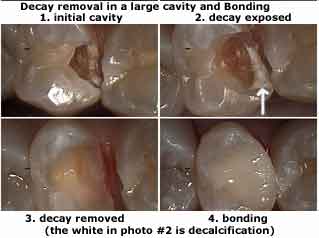 Treatment to avoid dental nerve pulpitis
 In photo 3) the large tooth cavity is removed; the pink color. Drilling near the tooth nerve but not actually touching it with either the dental drill bur or a dental hand instrument may be called an indirect pulp cap. Bleeding from the dental nerve means that the dentist was directly in the dental pulp and pulpitis symptoms reversible or irreversible are more likely to occur. The text in this image says: Decay removal in a large cavity and Bonding. 1. Initial cavity. 2. decay exposed. 3. decay removed. 4. bonding. (the white in photo #2 is decalcification).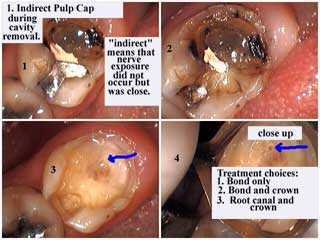 Photos help explain the meaning of dental nerve pulpitis
Indirect means that the tooth nerve exposure did not occur but was close. Treatment choices: 1) Dental Bonding only; 2) Place dental bonding material in the deeper tooth preparation and then place a dental crown on top; 3) Root canal treatment and dental crown. The treatment choices can be made partially based upon tooth pain symptoms. If a dental nerve pulpitis occurs then the question is – based upon the size and depth of the dental caries – whether a reversible pulpitis or irreversible pulpitiis would be expected. This is largely based upon dentist personal experience because it cannot be taught in textbooks.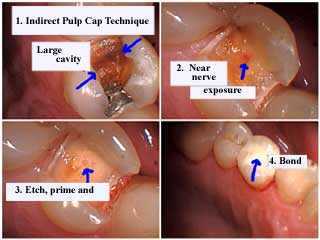 How to avoid dental nerve pulpitis
Bonding technique pictures show an indirect pulp cap – near dental pulp exposure. The dental pulp or tooth nerve is a blood vessel and nerve that is contained within a hollow void in the middle of the tooth called a root canal.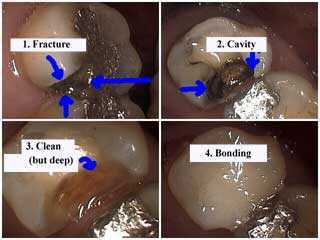 Dental bonding can be used in the treatment of reversible dental nerve pulpitis symptoms or tooth pain in a broken tooth
These pictures show how to remove a fractured silver dental filling and the removal of tooth decay near the tooth nerve.
In conclusion Dr. Jeffrey Dorfman created all of the dentistry shown on this 4,400 page website. In brief we offer intelligent & honest diagnosis and better results for dental nerve pulpitis treatment. Visit us when you want it done right the first time; you will save money by initially spending more. Therefore please call The Center for Special Dentistry®.