Root canal therapy is not painful when properly performed. Our Root Canal team includes 16 cosmetic dentists, specialists (including two Endodontists) and lab ceramists in one high-end midtown Manhattan office. Our  Endodontist works to high standards to keep you comfortable and to do it right the first time. We usually complete our root canal therapy in one office visit in about one hour. In short, we have endodontists, root canal specialists, on staff who are experienced with many times of tooth pain.
Many of our patients prefer nitrous oxide laughing gas to make the time pass more quickly. In addition an MD-anesthesiologist offers several options for dental sedation. It is your choice when scheduled in advance. As a result of all the above we are able to offer quick and comfortable root canal therapy.
Our Root Canal for Tooth Pain patients also have access to top medical care
Moreover our patients have access to our affiliated team of 12 medical doctors in our building. This is because of the known relationship between dental disease and other medical diseases like heart disease and diabetes. We hope to improve your overall health one step at a time.
Our Root Canal treatment is comfortable
Root canal therapy has a bad reputation for two reasons:  1) People frequently wait too long after tooth pain begins before they seek treatment and 2) Many general dentists, and high-volume endodontists, don't perform root canal therapy particularly well. Patients should ask to see the final x-ray following root canal therapy. They should learn to differentiate good root canal therapy from one that will likely need root canal retreatment or extraction later. Sadly, that happens a lot.
This x-ray below is an example of really bad root canal therapy. The root canal filling (arrows 3, 4 & 10) does not extend to the end of the tooth root (arrows 5, 6 & 11). 7) & 8) Radiographic evidence of an active root canal infection in the jaw. Pain in this tooth was the reason for this new patient visit. 9) A poor-fitting prefabricated post. The molar tooth on the left will likely need extraction and replacement with a dental implant and new crown because the three posts appear to block access to all three canals. The premolar tooth on the right will need root canal retreatment, a new post, possible gum surgery and a new crown.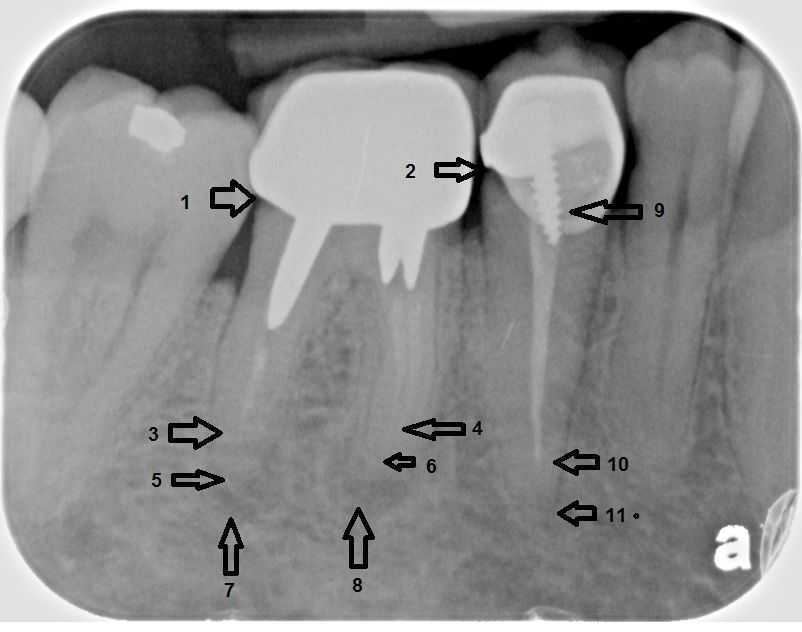 Before and After X-rays of NY root canal for Tooth Pain Management.
Each patient visit is scheduled with extra time to offer the finest in personalized care
The group effort is first class and the fees are correspondingly high-end. This website contains over 4,400 pages of exclusive dental information created by New York cosmetic dentist, Dr. Jeffrey Dorfman.. Most of this information is within the Dental Photos and Library sections. Dr. Dorfman has been practicing dentistry in midtown Manhattan for over thirty years. He uniquely maintained simultaneous professorships at Columbia and NYU dental schools for a combined twenty years.
Our practice focus is to offer comprehensive cosmetic dentistry – including Root Canal – quickly and comfortably. When necessary we also offer many options to reduce dental phobia including Behavior Modification and Relaxation, Nitrous Oxide laughing gas, Medication and/or Intravenous IV sedation. We also have an MD anesthesiologist available.
All of the dentistry shown on this 4,400 page website was created by Dr. Jeffrey Dorfman. Visit us when you want it done right the first time; you will save money by initially spending more. In conclusion, please call The Center for Special Dentistry®.
Related Articles:
Back to Top
About root canal therapy or endodontics--

Apicoectomy, root canal oral surgery

Related Dental Photos:
Root canal tooth pain treatment is also known as endodontics.

endodontist team teaches good root canal obturation with gutta percha.

Reversible and irreversible dental nerve pulpitis.

Endodontic access into the tooth nerve pulp during root canal-

Endodontics is needed for root canal pain infection--

Calcification in teeth nerves blocks root canal therapy---

Endodontic retreatment by a root canal specialist---

A tooth abscess from infection causes pain or swelling

A broken tooth may be chipped cracked or fractured

A fistula gum boil or pimple from a periapical abscess

A tooth abscess gum boil oral fistula and pus

Abscess infection treatment for a gum boil or fistula

Cleaning and shaping in root canal or endodontics

Combined root canal and gum problems

Direct pulp cap nerve exposure and pulpitis

Endodontic root canal therapy tray set up

Mouth pain from tooth root canal gum or jaw

Pain relief treatment cure control or medicine

Prophylactic endodontics means optional vital root canal

Pulpotomy is emergency tooth pain nerve treatment

Radiographs of root canal or endodontic healing

Root canal infection causes a periapical abscess or pain

Root canal infection causes pain swelling and abscess

Root canal therapy treats tooth pain and infection

Symptoms diagnosis and treatment of internal resorption

The tooth nerve is called the dental pulp

Tooth pain in odontology or stomatology

X-rays of root canal therapy include PA radiographs