Photos and X-rays on prophylactic endodontics means optional vital root canal created in our Root Canal office.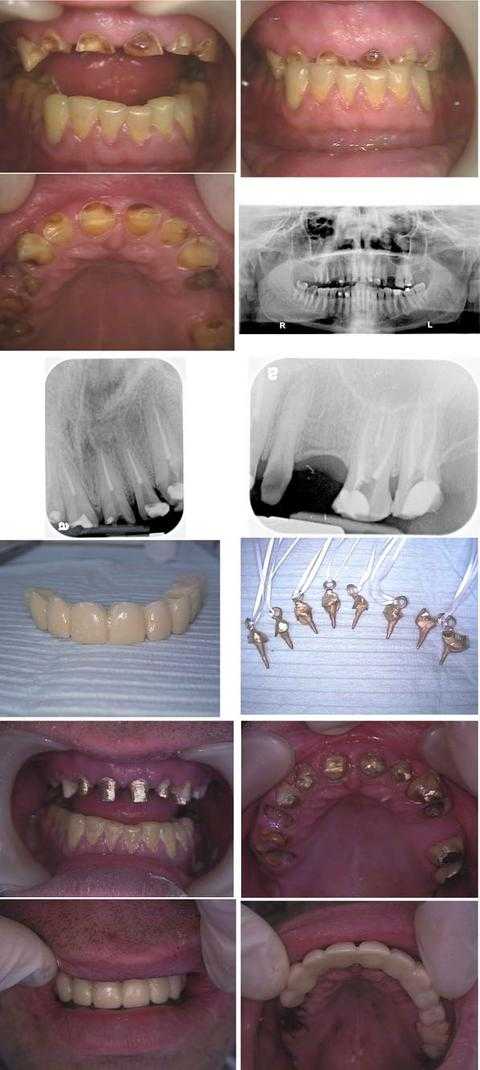 Prophylactic endodontics – elective optional – root canal during dental oral reconstructions for dental phobia patients. Gentle root canal therapy with a skilled & caring endodontist is frequently an early first step in treating dental fear. It is ironic but effective if diagnosed intelligently and performed well, especially if the local anesthesia novocaine is delivered extremely gently.
Treatment of a phobic Wall Street executive. Total treatment time was about nine hours in two visits during one business week: Monday (four hours) and Friday (five hours). This patient hid his dental condition for over a decade by never smiling.
In the first row of photos, note that the bite was over-closed due to a prior history of an eating disorder, now controlled, and a current tooth grinding habit.
An Oral Surgery consultation with panoramic x-ray (second row) was performed prior to treatment to evaluate opening the bite.
The third row shows x-rays taken after the Endodontist completed eight root canals on the first day on tooth #'s: 6 – 11 and 14, 15.
The fourth row shows the lab-processed 11 teeth) temporary dental bridge and the cast gold post/cores (with Kaitlyn loops) for the root canal treated teeth.
The fifth row shows the cast gold post/cores after placement of dental cement.
The sixth row shows the lab-processed temporary teeth bridge in place after the oral surgeon extracted tooth #'s: 3 – 5 and 12, crown lengthening gum surgery was performed on tooth #'s: 6 – 11, and a distal wedge was performed on #15.
The patient will have a final porcelain-metal dental bridge made after the gums heal. Dental implants may also be placed in the upper right posterior jaw. A bite plate is also necessary to try to mitigate the force of tooth grinding. Referral for pharmacological management of anxiety is also worthwhile.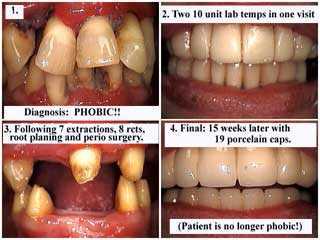 Prophylactic endodontics root canal for a Full Mouth Reconstruction – Smile Makeover – on a dental phobia patient.
Diagnosis: Dental Fear Phobia Anxiety. Our diagnosis is NOT the teeth but the emotions that caused the neglect of the teeth.
Dental Treatment: seven teeth extractions, eight teeth root canal and composite cores, full mouth scaling and root planing and then gum surgery, 19 teeth of dental bridgework over eight teeth abutments.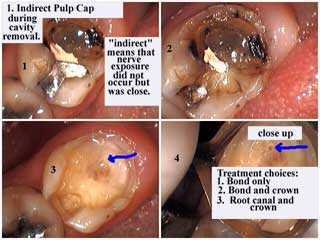 An Indirect Pulp Cap means that during drilling of the tooth the nerve pulp exposure did not occur but, was very close.
Treatment choices: 1)Dental Bonding only; 2)Tooth Bonding and Dental Crown; 3)Root canal and Dental Crown.
Choice 3) Prophylactic intentional endodontics root canal would be the recommendation for a phobic patient or a business person who frequently travels.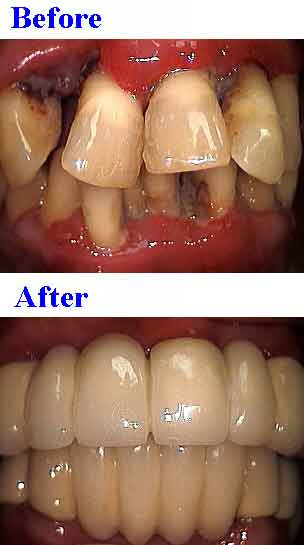 When performing full mouth oral rehabilitation reconstruction it is wise to consider prophylactic – intentional preventive – endodontics root canal.
Patients do not want to complete extensive dental work and then subsequently have tooth pain.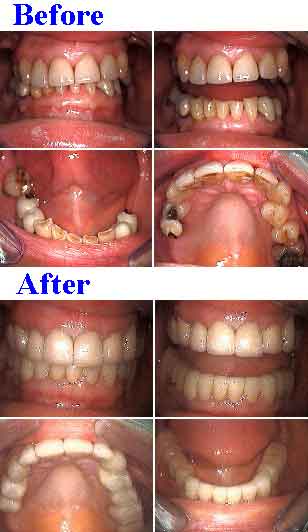 Porcelain dental crowns on every tooth – before and after pictures. Prophylactic root canal therapy – preventive endodontics – was performed on every tooth. Avoiding potential painful root canal emergencies should be considered and offered to patients when performing oral reconstructions.
No emergencies means happier patients.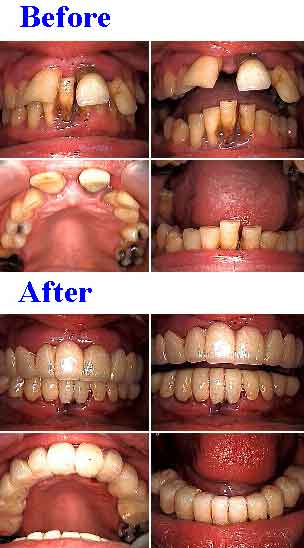 Smile Makeover – prophylactic endodontics root canal. 20 temporary dental crowns, 14 root canals and 6 teeth extractions. Treatment time: one visit.
People who need this type of dentistry frequently suffer from dental fear anxiety. Offering them optional elective root canal therapy with a gentle and skilled endodontist can dramatically reduce their potential post operative teeth pain.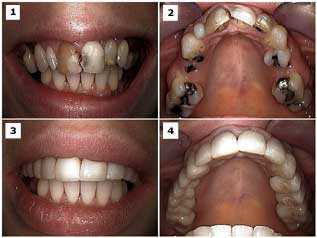 Upper jaw oral rehabilitation with 12 teeth porcelain dental crowns in a patient who had severe dental phobia, fear of the dentist. The patient was a pretty, 33 year-old female. Treatment included porcelain fused to metal dental crown & bridge, root canal therapy on all teeth abutments, root tip extractions, and facial dental bonding on both upper lateral incisor teeth. The upper anterior root canal and teeth crowns were first completed to show her how pretty her teeth could look and that it could be accomplished quickly and painlessly. Extractions of the hopeless teeth were all completed at one time and initiated early to allow time for healing before completion of the dental bridgework. Then root canal therapy was performed on the posterior abutments before their preparation for bridgework. The patient experienced minimal post-operative pain because of the prophylactic endodontics root canal.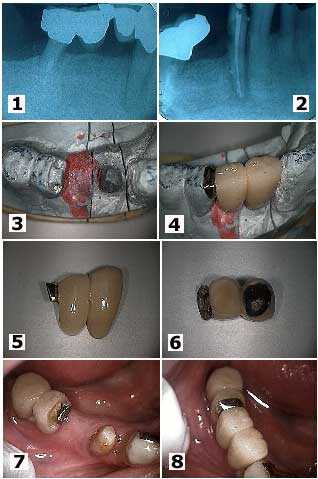 Attaching a porcelain metal teeth bridge to another porcelain metal teeth bridge in the middle of a pontic. 1) This elderly patient developed distal root caries under a bridge and a root canal infection on a lower first premolar. Note that the distal molar had previously been hemisected. 2) Following removal of dental bridge section and root canal therapy. 3) – 4) Two and a half unit bridge fabricated and seated on the working model. 5) – 6) Two photos of the two and a half unit bridge. The distal half unit has been fabricated with a female semi-precision attachment. 7) Intra oral photo. Note how the metal framework of the pontic was prepared into a "T" shape to help lock in the bridge after the dental cement hardened. 8) The final porcelain teeth bridge.