Our practice offers high-end Cosmetic Dentistry including Cosmetic Tooth Bonding with our team of sixteen cosmetic dentists, specialists and lab techs who work together in one cosmetic dentistry office. In addition an MD-anesthesiologist offers several options for dental sedation. Nitrous oxide laughing gas is also offered. Significant changes in your smile can occur with our NY aesthetic dentistry in as little as one treatment visit. 
We pay close attention to details in a clean, low-volume environment. We offer intelligent and honest diagnosis based upon 31+ years of experience. Our treatment is quick and comfortable. We use the finest materials and top labs.
Composite resin is used for bonding gaps or spaces between teeth. These before and after photos were created in our Cosmetic Dentistry office.

Bonding gaps performed three days before a wedding
The bride wanted a fast and cost-effective improvement to her smile in one visit. We offered her Sculpting – reshaping her teeth – and Cosmetic Bonding. The bonding was placed on her upper right canine to make it look like a lateral incisor. The treatment time was only 25 minutes. Shots were not needed because there was no pain.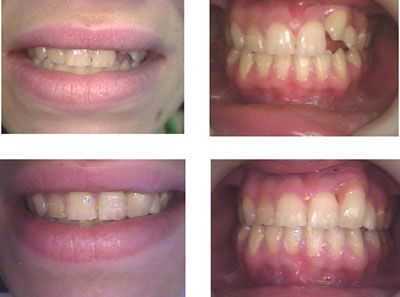 Cosmetic Dentistry with dental bonding gaps for one tooth and one porcelain veneer for the adjacent tooth
The patient refused orthodontic treatment. The Veneer had pink porcelain around the gingival margin (gum) to hide its relative height. This treatment took only two short visits.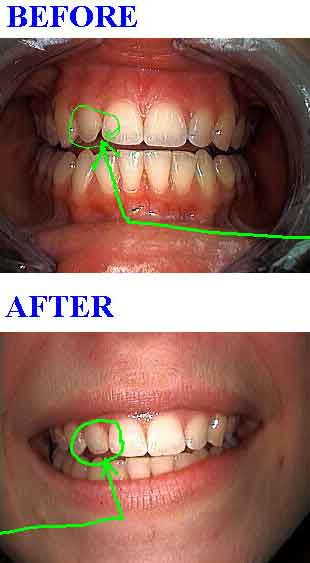 Bonding gaps to close spaces between teeth
One millimeter was prepared – drilled – into the mesio-lingual surface to add mechanical retention. Composite resin bonding was only added to the lingual surface. This allows labial enamel to naturally reflect light.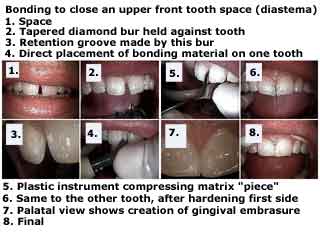 How bonding gaps between teeth is performed
Tooth bonding is used to close the space between the upper two front teeth. This space is also known as a diastema. The technique for teeth gap closure using dental composite resin is shown in these pictures.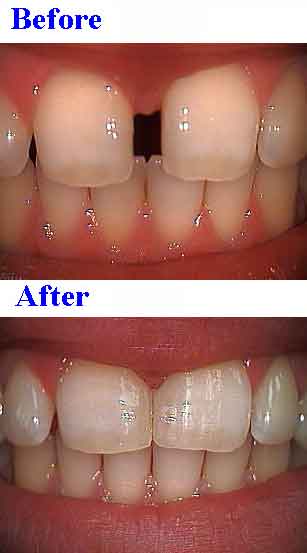 Aesthetic dental bonding, a white tooth filling material, is used here to close teeth spaces or gaps
A 1 mm channel was prepared in the mesial surfaces of both teeth to add mechanical retention. Bonding was only added to the mesial surface and contoured around the gingival gum papilla.
Treatment time: about thirty minutes during one visit. There was no need for shots because there was no pain.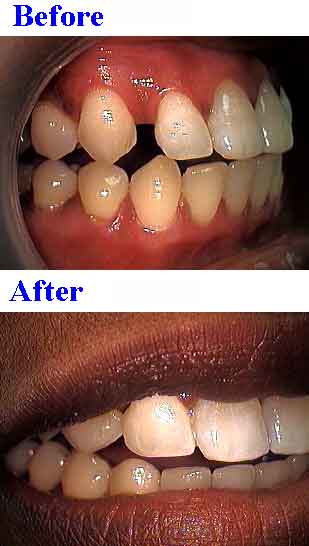 Closing teeth spaces – bonding gaps – with white composite resin that matches the adjacent teeth color
Composite resin, dental bonding and white teeth fillings are used interchangeably here though there are technical differences between them.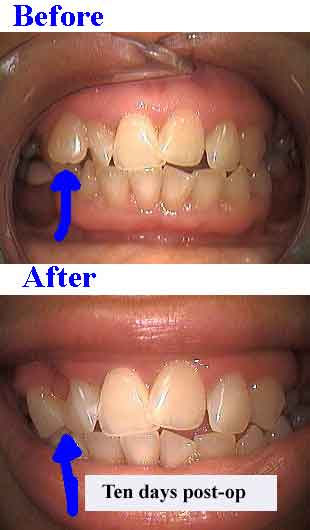 Cosmetic Dentistry (with extraction of a supernumerary tooth and dental bonding). Treatment time: one visit.
The supernumerary tooth was first prepared to open the interproximal area between the remaining teeth. Composite bonding was then placed interproximally on both teeth as if the supernumerary was already gone (this gives a clean field). Then the supernumerary tooth was extracted.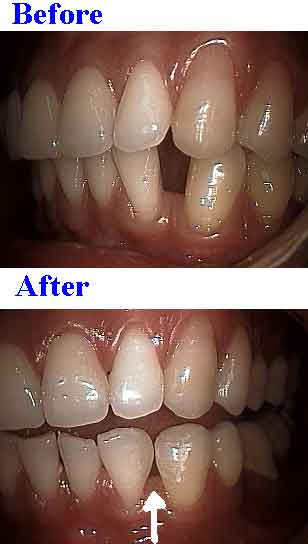 Teeth Bonding to close a teeth gap. It is always healthier for patient's gums to create rounded, confluent gingival margins when bonding to close spaces. However, most patients would prefer not to see an open gingival embrasure. Discuss this with your patient after seeing where their lip line falls during conversation. A satisfactory compromise between health and esthetics is usually attainable.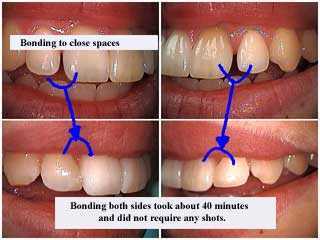 Aesthetic Tooth Bonding – a white tooth filling material – is used here to close spaces, gaps between teeth.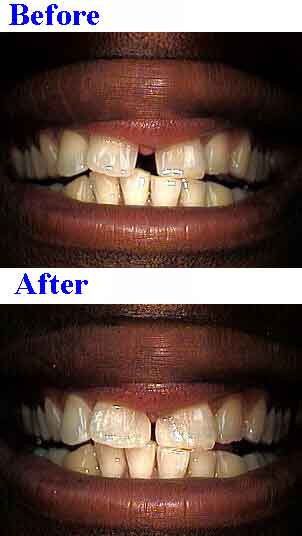 Teeth Bonding to close a diastema (the space between the two upper front teeth). When the space to be closed is very large consider NOT completely closing it because it will make the teeth look too wide relative to their length. Discuss beforehand!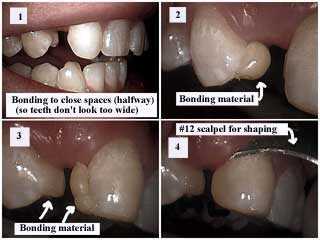 Composite resin technique to close a tooth space – teeth gap. How to pictures. Dental composite and composite resin are used interchangeably here.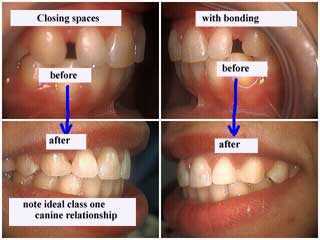 Dental Bonding to close spaces. Note ideal class one canine relationship.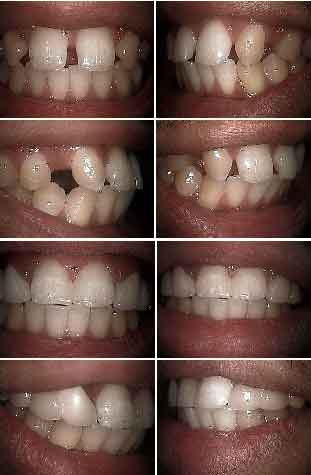 Bonding to close a diastema (space between the upper front teeth) and capping to close spaces around the bilateral missing laterals. Pictures show the treatment sequence.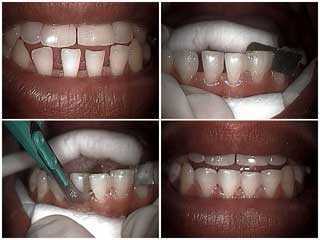 Bonding technique to close space – gap – between lower front teeth. Extra oral – outside the mouth – photographs.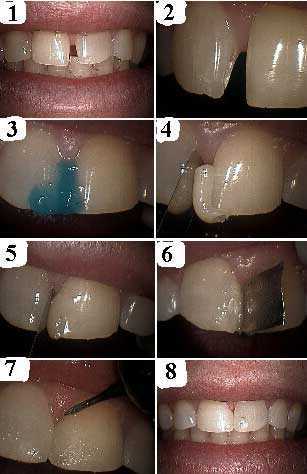 Dental Composite Resin Technique. Closing a diastema (space between the upper two front teeth). Steps are numbered in sequence 1-8 below:
1) Diastema
2) Groove prepped into mesial
3) Etch
4) Placement of bonding; note matrix "piece."
5) After shaping with plastic instrument.
6) Other side of matrix piece.
7) Shaping with flame finishing bur.
8) Finish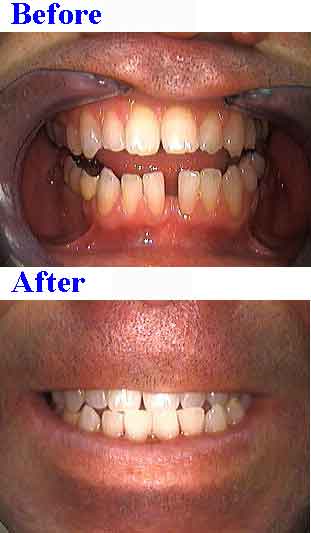 Dental bonding gaps with white tooth filling material to close spaces between the two lower front teeth
Treatment time: one visit without the need for novocaine.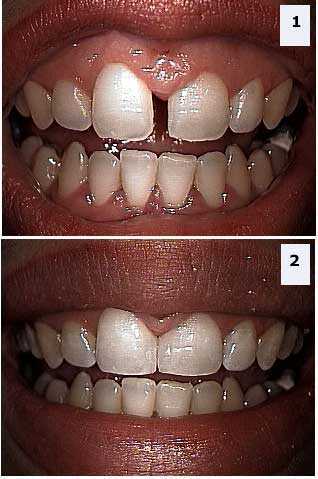 Closing a diastema (the space between the two upper front teeth) with dental commposite. Note how the bonding contours around the gingival papilla – gum point.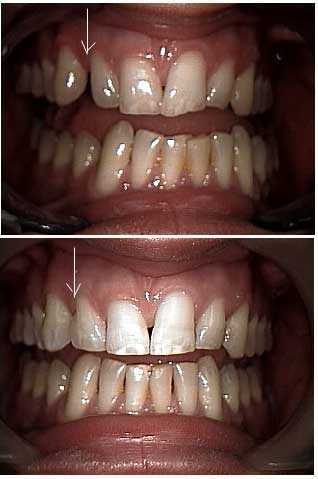 Cosmetic dentistry with Sculpting, reshaping, and Teeth Bonding Gaps
Note how the incisal edges of the top and bottom teeth were reshaped and how the space on the upper lateral incisor was closed with bonding.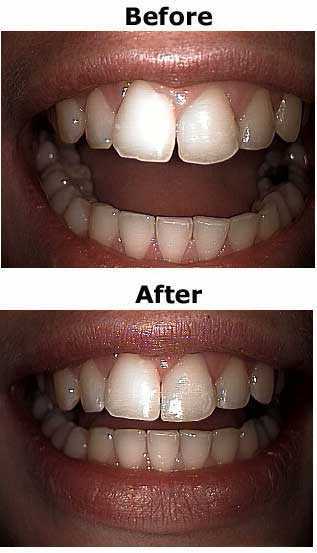 Cosmetic dentistry with Sculpting (reshaping) and Bonding Gaps between the upper central incisors
Note how the eccentric shapes of the centrals were reduced and bonding was added to the mesio-incisal angles. Collectively, this makes the teeth appear straight.