May 8, 2020 3:55 pm
An Antiviral Antiseptic Gargle & Nasal Spray ("AAG&NS") may help healthy people avoid coronavirus infection. It is supported in the scientific medical literature, based upon coronaviruses similar to COVID-19 (aka coronavirus).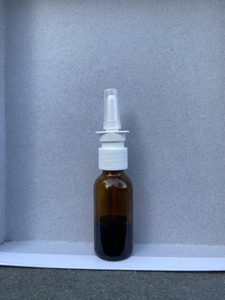 An AAG&NS is not a cure. We can hope for a cure from antiviral therapy, immune therapy and convalescent plasma therapy. However it is available today. And it may help save lives now.
An AAG&NS may be considered an additional line of protection for a healthy, non-infected person if coronavirus gets past their own facemask and enters their own nose or mouth. It may be considered a preventive addition to self-quarantine, social distancing, respiratory hygiene and Personal Protective Equipment ("PPE").
Povidone-Iodine ("PVP-I") is toxic in a lab to a wide variety of viruses including: adenovirus, mumps, rotavirus, poliovirus, coxsackievirus, rhinovirus, herpes virus, rubella, measles and human immunodeficiency virus ("HIV") in a short period of time. PVP-I is also toxic in a lab to "coronaviruses" like SARS-CoV and MERS-CoV. These coronaviruses share a similarity to COVID-19, another coronavirus.
The ability of PVP-I to kill this list of viruses in a lab does not mean it will definitely kill COVID-19 in a lab. Furthermore the ability of PVP-I to kill viruses in a lab does not mean it will definitely kill COVID-19 inside the mouth and nose. However it is a logical extension of the available data at this time.
An "antiseptic" can be used in or on the body. A "disinfectant" can be used to clean inanimate surfaces like kitchen counters but not in, or on, the body. Oral and nasal antiseptic products containing PVP-I are available in the U.S. Mouthwashes containing PVP-I can stain. However the safety profile of PVP-I has been well established.
Betadine® is a well-known brand for external wound care antiseptic that contains 10% PVP-I. Generic 10% PVP-I works fine and is much less expensive. 10% PVP-I is too high a concentration to use in the mouth and nose!
Iodine itself does not cause allergy. Iodine is an essential trace mineral that is needed in our diet. Most table salt contains iodine and is referred to as "iodized salt." Instead some brands that contain PVP-I also contain other trace chemicals that can cause an allergic response. Furthermore, UCSF says that no evidence suggests that the iodine content of seafood is related either to seafood intolerance or seafood allergy. A severe allergic response to anything, though rare, can result in death.
The 0.5% Povidone-Iodine ("PVP-I") needed for the mouthwash & nasal spray is sold in the US. However it is easy to make at home and much less expensive. In addition one liquid can be used for both the gargle and nasal spray. One 8-ounce bottle with a concentration of 10% PVP-I is easy to buy & then dilute 20:1 in DISTILLED water. Using tap water in a nasal spray can cause a sinus infection. This is NOT a drink. Consult with your primary care provider before use.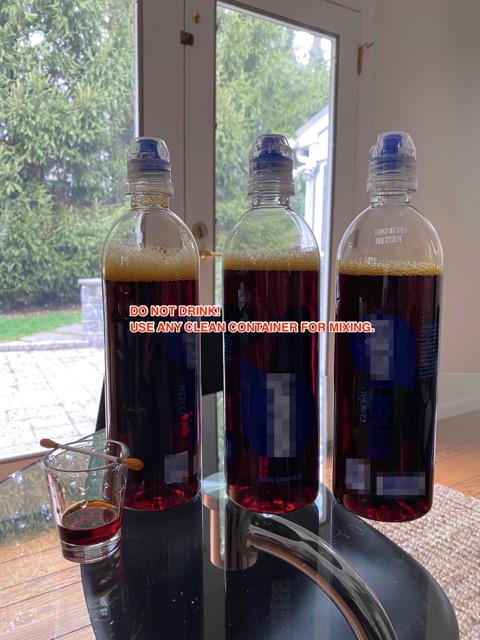 Buy 3 items online including Amazon or locally. Rx not needed. Total cost $20.
1. one 8-ounce bottle of 10% PVP-I.
2. one (or more) nasal spray atomizer bottle(s) that spray up into the nose. Standard is 0.1 ml/spray.
3. two gallons of distilled water.
A 20:1 distilled water to PVP-I dilution means 19 ounces of distilled water should be added to one ounce of 10% PVP-I in any clean container that is larger than 20 ounces. The result is 1 ounce of PVP-I in 20 ounces of total liquid (20:1).
You should now have 20 total ounces of 0.5% PVP-I in distilled water. Fill the 1-ounce nasal spray atomizer bottle(s) that offer 0.1 ml/spray. Keep the rest in the current closed container.
Gargle about two teaspoons for 30 seconds & then spit out. The exact volume is not critical but try to be close. Two sprays per nostril. No food or drink for 30-60 minutes.
The literature suggests gargling back in the throat & nose sprays up to four times a day. Healthcare personnel & others at risk will need this frequency of application. People who are staying home can use it less frequently day depending upon their activities & risk of exposure. Some minimal frequency of use may still be worthwhile even for those self-quarantined.
Antiviral antiseptic alternatives to 0.5% PVP-I appear in current research literature. They include: 1.5% Hydrogen Peroxide, 0.12% Chlorhexidine & sterile hypertonic saline solution. PVP-I appears to be the first choice against COVID-19 because of its greater proven in vitro toxicity against viruses in general & other coronaviruses in particular.
Randomized, double-blind Clinical Trials ("RCT") are needed. This research should include these alternatives in varying concentrations. However it will take time.
A simple RCT could offer a large group of healthy people a mouthwash & nasal spray containing one of the antiviral antiseptics & include water as a placebo. Then simply measure over time the incidence of these five groups contracting COVID-19.
Working with live virus is not needed. Therefore a Biosafety Level 3 ("BSL3") facility is not needed.
In the CDC & Prevention paper, "Morbidity and Mortality Weekly Report," the term "respiratory hygiene" is mentioned three times. Vol. 69 April 8, 2020.
"These findings underscore the importance of preventive measures (e.g., social distancing, respiratory hygiene, and wearing face coverings in public settings where social distancing measures are difficult to maintain)† to protect older adults and persons with underlying medical conditions, as well as the general public."
The CDC defines "respiratory hygiene" as "infection prevention measures designed to limit the transmission of respiratory pathogens spread by droplet or airborne routes."
https://www.cdc.gov/oralhealth/infectioncontrol/faqs/respiratory-hygiene.html
https://www.cdc.gov/flu/professionals/infectioncontrol/resphygiene.htm
An AAG&NS should be added to the CDC's existing respiratory hygiene list for the general public.
Video: How to Make at Home an Antiviral Antiseptic Gargle & Nasal Spray ("AAG&NS") That May Help Healthy People Avoid Coronavirus Infection.
This is the final segment in a series of posts about using an AAG&NS. It is based upon current scientific medical literature and is generally supported in academia & the military. It is is offered for the public good based upon the best available medical science at this time. The author is not selling anything. A proposal for a major scientific study is underway.
The CDC offers no guidance so no claim is made. An AAG&NS may be considered in addition to all other CDC guidelines like self-quarantine, social distancing & PPE like face masks.
Consult your primary care provider before use in healthy adults.
More info and scientific medical references: https://www.nycdentist.com/blog/cv/.
Read the original LinkedIn series: https://www.linkedin.com/in/jeffreydorfman/detail/recent-activity/shares/
Dr. Jeffrey Dorfman
1dentist, LLC
New York
https://www.linkedin.com/in/jeffreydorfman/
Categorised in: Uncategorized
This post was written by Dr. Jeffrey Dorfman