November 17, 2017 9:37 pm
Dental implant front tooth infection treatment was immediately necessary because the patient came to our office experiencing severe pain.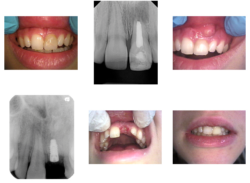 This college student visited our midtown Manhattan dental office with severe pain in one of her upper front teeth. The extent of the damage was such that this tooth could not be predictably saved. We arranged for our oral surgeon to extract the tooth. Then our cosmetic dentist placed a fixed temporary crown during healing as seen in the lower right photo. This fixed temporary crown was placed instead of the more common removable flipper. After healing an aesthetic porcelain crown was placed.
At The Center for Special Dentistry® we help our patients avoid unpredictable treatment. This is because people don't like to invest time, money and emotions in something like dentistry and then have it fail. We prefer to save teeth whenever possible. However we also offer realistic treatment suggestions based upon sound academic research.
Dental Implant Front Tooth Infection
Dental implant placement after extraction of an infected front tooth can be complex. It must be carefully planned in advance because there are many undesirable problems that can occur during the course of treatment. These problems can include failure of the dental implant, failure of the dental crown and/or an unaesthetic final result. It is worthwhile for someone seeking this type of treatment to carefully consider treatment options including benefits and risks, the total treatment time and cost. It is also desirable for patients to obtain a reasonable comfort level with the skill and experience of the dentists who will perform the dentistry.
Problems associated before, during and/or after with dental implant front tooth infection treatment can be severe. Sadly it is quite common for people to call our office to inquire the cost of this type of procedure rather than ask about the skills of our 16 cosmetic dentists and specialists. We refer those motivated solely by cost to visit a local dental school. Please call us if you are seeking superlative care.
Categorised in: Dr. Dorfman Says
This post was written by Dr. Jeffrey Dorfman