January 14, 2018 5:01 pm
We recently added a lot of videos on Dental Implants History on The Center for Special Dentistry YouTube channel, Some of these videos were made by my friend and mentor, Dr. Leonard Linkow, in the 1970's and 1980's. He gave them to me to preserve online for future generations of dentists to study. Some of these videos were made before the use of gloves in dentistry and medicine. I began digitizing Dr. Linkow's work in 2001 – before Google books. I continue to do so today. In particular understanding implant dentistry today requires an historical perspective. One may discover that some "innovations" are really 50 years old.
Dental Implants History
Dr. Leonard Linkow was born in Brooklyn, New York on February 25, 1926. He placed his first dental implant in 1952, four months after he graduated from dental school. By 1992, Dr. Linkow had placed over 19,000 dental implants and stopped counting. He retired from private practice in 2002 leaving a body of work that included 12 books and 36 patents. Lenny passed away on January 26, 2017 at age 90. Hundreds of people attended his funeral. This author was the first non-family member invited to speak. The American Academy of Implant Dentistry and The American Dental Association referred to Dr. Leonard Linkow as "The Father of Implant Dentistry" in their obituaries.
This author, Dr. Jeffrey Dorfman, Director of The Center for Special Dentistry®, practiced with Dr. Linkow in the 1980's in New York City. Knowledge and experience are particularly important when seeking dental implants. Please call us to schedule an appointment in our midtown Manhattan office. All specialists and cosmetic dentists work together in one practice. This offers significant convenience and other benefits to our patients.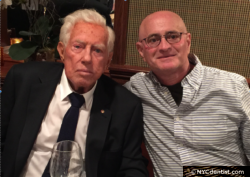 More Dental Implants History
More info: Linkow Archive – LinkowLibrary.org
This website contains four complete textbooks written by Dr. Linkow. In addition it contains many slide shows and videos. It is THE source to study dental implants history.


Tags: dental implants history


Categorised in: Dr. Dorfman Says

This post was written by Dr. Jeffrey Dorfman