Our office has 16 cosmetic dentists, specialists (including two Oral Surgeons) and lab ceramists in one high-end midtown Manhattan location. As a result we are able to offer quick and comfortable dental implants. In addition an MD-anesthesiologist offers several options for dental sedation. Nitrous oxide laughing gas is also available. People who seek our Dental Implants team for more complex care may also need access to our affiliated team of 12 medical doctors in our building.
We offer intelligent and honest diagnosis based upon 31+ years of experience. Our treatment is quick and comfortable. We use the finest materials and top labs.
At The Center for Special Dentistry® our teeth implants are chosen for each patient depending upon a complex interaction between speaking, chewing and cosmetic needs. Then we must consider the quality of available bone and the quantity/quality of remaining teeth. We also need to consider medical health and emotional temperament versus potential constraints of available treatment time and finances.
We offer fixed temporary crowns without removable Flippers
Our Dental Implants serve as anchors for teeth that don't move when you speak or chew. They may be used to replace all teeth missing in a jaw. They may also be used to replace only one or several missing teeth. The treatment choices can vary tremendously. Therefore "one size does not fit all" in our office.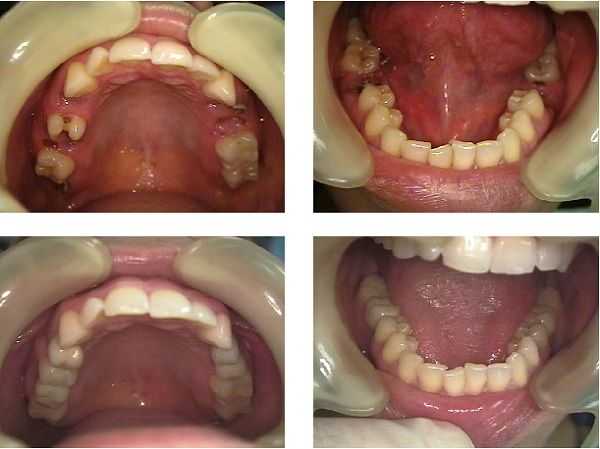 All dental implant cases are carefully reviewed in advance by our in-office team of New York implant dentists and cosmetic dentists, including oral surgeons, to offer a wide range of dental implant treatment options and then create a personalized treatment plan for each patient.  That takes time, knowledge and experience. Most of our master clinicians in cosmetic dentistry, the various dental specialists including oral surgeons and our master ceramist lab technicians have over 30 years experience each. Many have teaching appointments or professorships at top NY dental schools.
Learn Benefits and Risks of Implants in a Day and Immediately Loaded Dental Implants
Visit us to learn about Implants in a Day and other types of immediately loaded dental implants. Contrary to what you hear this is not new; Dr. Dorfman was performing this type of dentistry in the mid-1980's. Many times this is currently offered by dentists because it is more convenient for the dentist while decreasing the long term prognosis of the implant dentistry. Visit us to learn about whether you are a good candidate to have a dental implant placed on the same day as a tooth extraction. Again, it is frequently offered for dentist convenience rather than patient benefit.
Would you benefit from a bone graft, and if so, then what type of bone graft would be best for your specific needs? Is your dentist offering you a Flipper or some other type of removable false tooth while the extraction site and/or dental implant heals? Did you know that at CSD we only offer fixed, non-removable, temporary teeth – people visit us to throw their Flipper away? Visit dental implants for high-end New York implant dentistry at its finest.
Before and After Photos of New York Tooth Implants.
Dr. Jeffrey Dorfman, Director, has an extensive 35+ year background in Implant Dentistry
In private practice since 1985 Dr. Jeffrey Dorfman, Director, has over twenty years combined professorships at Columbia and NYU dental schools; students and young dentists from around the world study with us every day in our office.
Dr. Dorfman's personal background dental implants extends back to 1980 while studying Biochemistry as an undergrad at The University of Pennsylvania. With a close friend, Dr. Neal Gittleman, they created Implant Systems, Inc that became their dental implant patent holding company. By the time he entered The University of Pennsylvania School of Dental Medicine in 1981 Dr. Dorfman was President of Implant Systems, Inc and selling stock in the company. He personally organized the first all-day dental implant lecture at Penn Dental around 1984 with speakers including Drs. Leonard Schulman (Harvard), Max Listgarten (Penn) and Charles Weiss (NY). Singularly as a dental student and Editor in Chief of the Penn Dental Journal he wrote about dental implants when most professors knew nothing about them.
In 1985 Dr. Dorfman graduated from The Dental Care Center honors program at Penn Dental and joined Dr. Charles Weiss in the penthouse of The Chrysler Building working half time personally performing dental implant surgery and restoration while spending the other half of his time lecturing on implant dentistry all around the U.S. on behalf of the publicly-traded dental implant company, Oratronics. In 1986 he published an article on the dental implant-soft tissue interface in The Journal of Oral Implantology, the leading dental implant journal of its time. Dr. Dorfman left the Chrysler Building practice after 2.5 years to work with Dr. Weiss' teacher, Dr. Leonard Linkow, who many consider the grandfather of modern implant dentistry. Particularly in the late 1980's Dr. Dorfman personally used to treat 50 dental implant patients a week with Dr. Linkow.
LinkowLibrary.org offered free historical dental implant textbooks online before Google books
In 2002 Dr. Dorfman created, and curated, LinkowLibrary.org that presents free online access for anyone who wants to study historical implant dentistry. He believes that his significant clinical experience and understanding of historical implant dentistry offers dental implant patients the greatest benefits in terms of treatment choices, benefits & risks, and execution as he leads a multi-specialty, in-office dental implant team.
Your browser does not support the video tag.
Original content performed and created by Dr. Jeffrey Dorfman
By the way Dr. Dorfman created all of the dentistry shown on this 4,400 page website. Visit us when you want it done right the first time; you will save money by initially spending more. Therefore please call The Center for Special Dentistry®.

Related Articles:
Back to Top
Dental implants replace missing teeth

Implant dentistry focuses on teeth replacement

Intramucosal inserts are a type of dental implants

Related Dental Photos:
Dental Implants discusses a Bone Graft, Teeth in a Day & a Flipper.

Dental Implants Problems include a loose crown and implant infection.

Dental implants smile makeover and oral rehabilitation.

Our New York Dental Implants team explains Dental Implant Abutments.

Consider intramucosal dental implants for osteoporosis

Dental crowns for teeth implants and abutment screws

Dental crowns or porcelain bridges over dental implants

Dental implant prosthetics hybrids crown and bridge

Dentures can be called false teeth or removable bridge

Fixed removable dental implant hybrids and telescopes

Orthodontic space maintenance for dental implants

Plan dental implants and cosmetic dentistry together

Single tooth dental implant and osseointegration

Sinus lift elevation bone grafts and dental implants

Subperiosteal dental implants and hybrids

X-rays of dental implants and panoramic radiographs

Related Videos:
A Discussion of Dentist Fear Dental Phobia

Dental Implants: Trying in the bridge frame. 1 of 5

Dental Implants: Trying in the bridge frame. 2 of 5

Dental Implants: Trying in the bridge frame. 3 of 5

Dental Implants: Trying in the bridge frame. 4 of 5

Dental Implants: Trying in the bridge frame. 5 of 5

Fabrication of Jigs for Dental Implants

Full Mouth Implants, Crowns and Veneers

Laser Dentistry and Dental Implants

The Center for Special Dentistry