The Center for Special Dentistry in midtown Manhattan focuses on the treatment of complex cases. But we also offer basic General Dentistry services like teeth cleanings and check-ups exams. Our cosmetic dentists provide  white cosmetic fillings, Bondings in NY that are nearly invisible.
Our team includes 16 cosmetic dentists, specialists and lab ceramists in one high-end midtown Manhattan office. In addition an MD-anesthesiologist offers several options for dental sedation. Nitrous oxide laughing gas is also available. As a result we are able to offer quick and comfortable general dentistry. We offer intelligent and honest diagnosis based upon 31+ years of experience. We use the finest materials and top labs.
Healthy young people whose parents suffered with dentistry should see us now
We teach that ideal dentistry starts with prevention. Likewise diagnosis and conservative treatment of seemingly simple problems can help prevent the dreaded domino effect and increasing dental disease. For over 30 years we have seen little problems become bigger problems. Come to us even though you are healthy because that will give you the best chance of remaining so. This is particularly important for seemingly healthy people who have a family history of moderate to severe dental problems.
There are many factors that affect the quality of even simpler cosmetic dentistry
There are many different materials used in a tooth-colored bonded filling. A bonded filling is frequently called bonding. These materials include: 1) tooth etchant, which microscopically roughens the tooth surface for bonding; 2) primer, which further roughens the tooth surface; 3) dentin enamel bonding resin with a light or dual-cured catalyst; 4) possible use of self-cured posterior composite and 5) light-cured bonding materials. The quality of each of these materials can vary tremendously. The best brands benefit the patient in many ways. These benefits include: 1) minimizing post-operative pain; 2) resisting the recurrence of tooth decay and breakage and 3) maintaining color-fastness over time. The top brand materials used at CSD are among the most expensive to buy and the most time-consuming to use. Therefore the results are worth it. Furthermore CSD does not place silver amalgam fillings.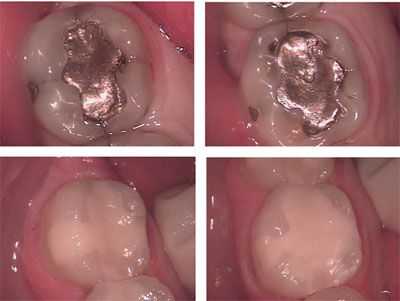 More NY General Dental photos.
Avoid patchwork dentistry that will prematurely fail
It is common to see general dentistry patients who have had two, three or even four separate fillings, performed at different times, and placed within the same tooth! 'Patchwork' dentistry should not be done because decay is usually present under these older, adjacent fillings. At CSD we usually remove the old, adjacent silver fillings within that same tooth when placing new white bonded fillings. This takes more time, but being thorough now will save our patients from needing more dentistry sooner rather than later.

More NY Pediatric Dentistry for Children photos.
We work with the top porcelain ceramists in New York for a visible difference
CSD only works with New York Lab Technicians who hand craft beautiful, well fitting crowns (caps) that don't show any dark metal on the biting or on the inside surfaces. When necessary a CSD Porcelain Ceramist will be present for final porcelain color shading and characterization. There are many benefits to working with local NY Master Ceramists rather than working with inexpensive dental labs in third world countries. The skill in preparation and impression-making of your teeth for caps is significant. Crowns should also be made to minimize long-term gum problems (overly bulky caps irritate gums) and maximize cement retention (so the cap won't fall out). Dental impression material brands also vary in quality (and cost) so patients can learn about their dentists just from the brands used. All these factors allow CSD to create exceptionally beautiful general dentistry that can last a long time.
Dr. Jeffrey Dorfman, Director of CSD, has practiced in NYC for over 30 years. He has over twenty years combined professorships at Columbia and NYU dental schools. Many dentists and students visit from around the world to study in with him in New York.
See Before and After Photos of New York General and Cosmetic Dentistry.
All of the dentistry shown on this 4,400 page website was created by Dr. Jeffrey Dorfman. Visit us when you want it done right the first time; you will save money by initially spending more. Call The Center for Special Dentistry® for the finest general dentistry.
Related Articles:
Back to Top
Kaitlyn Loop helps prevent swallowing posts or crowns

Kaitlyn Loop vs. Lingual Button in Dentistry

Post operative instructions for dental treatment

Prefabricated dental inlay forms patent

Related Dental Photos:
Tooth decay treatment or how to remove cavities in teeth.

Tooth decay crown treatment of cavities on important visible teeth.

Full Mouth Reconstruction with Dental Bridges and Fixed Porcelain Caps.

Crown buildup after root canal with composite resin--

Dental cements luting agents and glue for crowns--

Dental crown complications and problems--

Tooth decay seen in x-rays and photos--

Abutment teeth and dental bridges and crowns

Broken teeth that cannot be fixed need extraction

Cavities caries and tooth decay mean the same thing

Chipped broken tooth or cracked teeth may need crowns

Decalcification of teeth may cause cavities

Dental Radiographs X-rays

Erosion of teeth from abrasion or abfraction

Fix broken porcelain caps

How to drill or prepare teeth for crowns

Kaitlyn Loop for a crown bridge or cast post core

Pediatric dentists treat primary or baby teeth

Removal of dental crowns and bridges by cutting

Removal of porcelain crown and bridge by cutting

Repair porcelain crown fracture and fix broken caps

Restorative dentistry involves fillings inlays or crowns

Silver fillings are also called dental amalgam

Solder transfer crown and bridge metal frame work

Temporary crowns or caps are also called provisionals

Tongue thrust in primary dentition or baby teeth

Tooth preparation and impression for gold post core

Trauma teeth injury from falling accidents or sports

When children break adult teeth